Elder Scrolls Online's Xbox Series X/S and PS5 version has been delayed to mid-June
Release date pushed to avoid a clash with the launch of the Blackwood update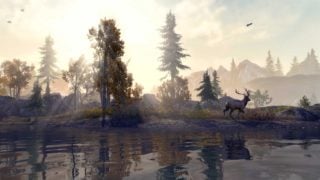 Zenimax Online has delayed the release of The Elder Scrolls Online: Console Enhanced for Xbox Series X/S and PlayStation 5 by one week to June 15, 2021.
The next-gen version of the game was previously scheduled to launch alongside the Blackwood Chapter and Update 30, which will hit consoles on June 8, one week after its release for PC, Mac and Stadia.
"In an abundance of caution, we are moving the ESO: Console Enhanced launch out a week," reads an announcement on the game's official site. "We are doing this so we are not launching Update 30 (Blackwood) at the same time as Console Enhanced and can give both our undivided attention.
"We apologize for the inconvenience, but we want to ensure that everything launches smoothly during this very busy time. Thank you all for the ongoing support, and we look forward to welcoming everyone to Blackwood next month."
Running at 60 frames per second in Performance Mode, Elder Scrolls Online: Console Enhanced will feature improved textures, reflections, shadows and draw distance.
Elder Scrolls Online: Console Enhanced
60 FPS: For the first time, you can experience the game running at 60 frames per second when in "Performance Mode" on console. Previously capped at 30FPS, you can now enjoy a crisp 60FPS throughout your adventures.
Increased Draw Distance: Thanks to Console Enhanced, the game's draw distance has almost been doubled for your new console, allowing you to see more than ever before when exploring the ever-growing world of Tamriel.
Unlocked Textures: In addition to Draw Distance, we've also unlocked the ability for new-gen consoles to use high resolution textures so that they look even better on larger screens.
Updated Antialiasing: Improved antialiasing is also in place to help smooth out the jagged edges of foliage, grass, and structures in game while also sharpening these elements when viewed up close.
Improved Reflections: We've also improved visuals with the addition of planar reflections, providing a massive boost to the game's level of detail and realism. This is most noticeable in areas with water (such as Vivec City or Summerset). Note that when in Performance Mode, the boost to reflections might vary in water-heavy zones (such as Murkmire) or in areas where performance is most valued (such as in Cyrodiil or Trials).
Improved Ambient Occlusion with Screen Space Global Illumination: Upgrades to the game's ambient occlusion with SSGI creates more realistic and natural indirect lighting and broadly boosts the level of detail in the game's shadows.
Improved Shadows: Speaking of shadows, shadow resolution has been doubled and set to the PC equivalent of "Ultra"—the best possible setting for shadows in any version of ESO. This includes improvements to shadow distance.
Improved Depth of Field: The upgrade enables circular depth of field (the highest possible setting), creating smoother and more realistic background views, particularly when interacting with NPCs.
Improved Loading Times: Finally, loading times have been tuned to be much faster than previous generation consoles, with loading times being nearly cut in half on average.
Bethesda announced plans to bring The Elder Scrolls Online to Xbox Series X/S and PS5 last summer.
Zenimax Online said in September 2020 that the MMO would continue to be supported "exactly as it was" on current platforms including PS4 following Microsoft's acquisition of Bethesda's parent company ZeniMax Media, a deal which was completed in March 2021.