Elden Ring's day one patch detailed: Control improvements, bug fixes and more
Plus news on ray-tracing addition is coming in the future, according to Bandai Namco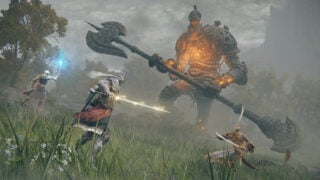 Bandai Namco has detailed Elden Ring's day one patch, which is being distributed now ahead of the game's Friday release date.
According to the publisher, update 1.02.1 will "improve the stability of gameplay", and make improvements to controls, balance, NPCs, text and more.
Timing for the implementation of ray tracing, which is planned to be supported after the release, will be revealed in future announcements, It said.
The Elden Ring review embargo lifted on Wednesday and having received near-universal praise from critics, the From Software game is already sitting near the top of some 'best game of all time' lists.
Elden Ring - the VGC review
Following a one-month delay, Elden Ring will be released on February 25 for PS5, PS4, Xbox Series X/S, Xbox One and PC.
VGC's Elden Ring review called it From Software's most vital game since Demon's Souls.
"Elden Ring is a fantastic game that can still deliver the unmatched thrill of defeating a tough boss after an hours-long battle," wrote reviewer Jordan Middler.
"Those who worship at the church of Souls-like will find a game that's basically everything they ever wanted."
---
Elden Ring day one patch notes
Major items included in the latest update:
Improved player controls
Addition and adjustment of BGM
Text adjustments
Balance adjustments
NPC event fixes and adjustments
Fixed frame rate drops under certain conditions
Fixed text bug in some languages
Fixed a bug that prevented the Xbox wireless headset from working properly