Elden Ring will feature online multiplayer 'for up to 4 players'
Bandai Namco reveals new details about highly anticipated From Software game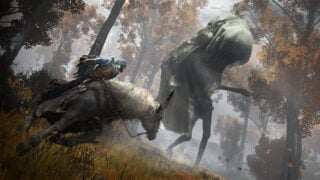 Elden Ring will feature online multiplayer for up to four players, developer From Software has confirmed.
In a fact sheet distributed on Thursday following the debut of a new Elden Ring trailer and the announcement of a January 2022 release date, the developer's docs listed the support for online multiplayer.
And a press release stated that players would be able to "traverse on foot or horseback, alone or online with friends across grassy plains, suffocating swamps and lush forests."
Bandai Namco CEO Yasuo Miyakawa also confirmed plans to develop Elden Ring outside of games. "We will continue to develop Elden Ring not only as a game but also in a variety of other areas in order to deliver the worldview and charm of this title to our fans around the world," he said.
Thursday's Elden Ring reveal represents the first significant update on the game since it was announced in June 2019, and the first time anyone has seen gameplay outside of its publisher or developer.
Elden Ring is a fantasy action-RPG described as From Software's largest game to-date.
The game takes place in a world created in collaboration with A Song of Ice and Fire author George R.R. Martin, who was tasked with creating Elden Ring's lore, rather than working on its story.
"With Elden Ring, we have applied all our dark fantasy and action-RPG expertise cultivated throughout the Dark Souls series, in order to create a bold, classical evolution of the genre," said director Hidetaka Miyazaki in a prepared statement.
"We've crafted a rich world with a staggering sense of scale, based off of legends written for the game by George R. R. Martin. Elden Ring is a world full of mystery and peril, ready to be explored and discovered; a drama in which various characters flaunt their own mystique and ulterior motives. We sincerely hope you enjoy experiencing it for yourself."