Elden Ring Review Roundtable: 'I think it's better than Bloodborne'
VGC's Jordan Middler and Gaming Bible's Ewan Moore discuss FromSoftware's Epic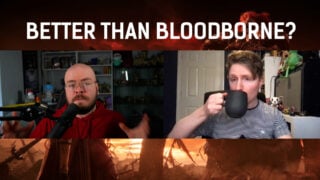 The media embargo has lifted and Elden Ring reviews are live across various publications.
Following years of anticipation, the RPG will finally release for PlayStation 5, PlayStation 4, Xbox Series X, Xbox One and PC on Friday, March 23.
Ahead of reviews going live, VGC's critic Jordan Middler and Ewan Moore of Gaming Bible linked up to discuss their thoughts on the game, after dozens of hours reviewing it for their respective publications.
While Middler is extremely positive, as you can see from our review, Moore takes it one step further claiming that the game is "Better than Bloodborne"
In our review we called Elden Ring:
"a fantastic game that can still deliver the unmatched thrill of defeating a tough boss after an hours-long battle. Those who worship at the church of Souls-like will find a game that's basically everything they ever wanted.
"There are more bosses than ever, more areas to explore, and so much lore to find that the digital archaeologists of the Souls community will be kept busy for years."