Elden Ring is officially one of the best reviewed games ever
Following the publication of reviews, the FromSoftware title has topped aggregation sites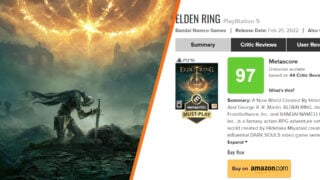 The Elden Ring review embargo has lifted and having received near-universal praise from critics, the From Software game is already sitting near the top of some 'best game of all time' lists.
Based on over 90 reviews at the time of publication, Elden Ring is the highest-rated title ever on OpenCritic with a 'Top Critic Average' of 97 – an achievement matched only by Super Mario Odyssey, but Nintendo's game currently holds a slightly lower true average score.
And on review aggregation site Metacritic, at the time of publishing Elden Ring has scores of 97 (PS5) and 95 (PC and Xbox Series X/S).
The PS5 version of Elden Ring is listed as Metacritic's 15th-highest reviewed game of all time. Only 24 titles have scores equal to or greater than the PS5 version of Elden Ring on Metacritic's all-time rankings, which are headed by The Legend of Zelda: Ocarina of Time (99).
On OpenCritic, 44 publications that scored Elden Ring gave it full marks, while on Metacritic, 24 of 40 outlets that reviewed the PS5 version also awarded it the top score available.
Elden Ring reviews compare favourably to those given to From Software's previous games (the scores below are based on the highest-rated platform version):
Demon Souls (2009) – Metacritic 89 / OpenCritic N/A
Dark Souls (2011) – Metacritic 89 / OpenCritic N/A
Dark Souls 2 (2014) – Metacritic 91 / OpenCritic 88
Bloodborne (2015) – Metacritic 92 / OpenCritic 91
Dark Souls 3 (2016) – Metacritic 89 / OpenCritic 90
Sekiro: Shadows Die Twice (2019) Metacritic 90 / OpenCritic 90
The PS5 remake of Demon Souls (2020) from PlayStation Studios and Bluepoint Games has Metacritic and OpenCritic review scores of 92.
Following a one-month delay, Elden Ring will be released on February 25 for PS5, PS4, Xbox Series X/S, Xbox One and PC.
VGC's Elden Ring review called it From Software's most vital game since Demon's Souls.
"Elden Ring is a fantastic game that can still deliver the unmatched thrill of defeating a tough boss after an hours-long battle," wrote reviewer Jordan Middler.
"Those who worship at the church of Souls-like will find a game that's basically everything they ever wanted."
Related Products
Other Products
Some external links on this page are affiliate links, if you click on our affiliate links and make a purchase we might receive a commission.