Konami eFootball's crucial 1.0.0 update arrives next week, with FUT-like Dream Team mode
Konami says the update will be considered the first 'main' release of the game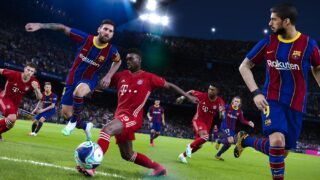 The release date for eFootball 2022's version 1.0.0 update has been announced.
Version 1.0.0 will release on April 14, 2022, and will be considered the first 'main' release of the game.
"Driven by feedback received from our users, we have worked on fixing bugs, adjusting the game balance, and adding new elements to the game to make it even more enjoyable for our users," Konami said on Twitter, announcing the update.
A new game mode called Dream Team will be introduced as part of the update which will allow players to "enjoy building their own team and take on other Dream Teams from around the world".
eFootball 2022 launch trailer
In a new statement on the game's official website, Konami addressed the extremely negative reception the first version of eFootball received when it was released in September 2021.
"We were too focused on getting the game out on time that we lost sight of the most important thing: quality," it reads. "Naturally, we were met with critical reviews from rightfully disappointed fans.
"The development team has been hard at work since to regain the trust of our esteemed fans, as well as to make the game even more enjoyable for soccer fans around the world.
"As part of our commitment to improving the game, we have added new commands and numerous elements (both offensive and defensive) that are prevalent in the modern game of soccer. We have also readjusted the balance of the game and fixed bugs to ensure an enjoyable gaming experience."
According to the site, these improvements include tweaks to defending, passing and shooting controls.
"Out of all the feedback we have received, most of it mentioned defending," the statement reads. "In particular, many of you commented on how difficult it is to defend and to win the ball back.
"After reviewing the prioritizations of defence-related plays, we decided to change the default button settings to make defending more intuitive. Pressing commands that were available in previous instalments will also be reintroduced into the game.
"Furthermore, we added a new command, 'Shoulder Charge', for you to regain possession in a more proactive manner."
Passing has also been improved, with passes said to be faster and more accurate, while improved shooting speed and new kick styles including 'stunning shot' and 'stunning pass' have been added.
The new Dream Team mode will allow players to build a team using players from around the world, much like the MyClub feature in PES and Ultimate Team in FIFA. Players in your Dream Team can be developed "to fit your personal playstyle, which means you have almost infinite freedom to shape the team to your liking".
The first version of eFootball was released in September 2021 to widespread criticism.
The football simulator, which was widely panned for its poor gameplay and comical graphics, was named the worst reviewed game of 2021 by Metacritic.
Publisher Konami even publicly apologised for the game and promised improvements, with next week's version 1.0.0 promising to be the first major example of this.