EA stock reaches all-time high after it announces new college football game
EA Sports College Football set for release "in the next couple of years"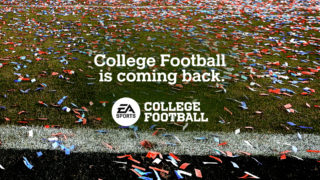 EA stock hit an all-time high on Tuesday after it announced a new college football game almost eight years since it last released one.
The company published 21 college football games between 1993 and 2013, the last one being NCAA Football 14.
The series served as a college counterpart to its annual Madden NFL series and generated tens of millions of unit sales, according to EA.
On Tuesday it announced that development of EA Sports College Football "is just underway, with launch timing still to come as the project progresses in the years ahead".
EA stock reached an all-time high after the announcement, MarketWatch reports, and was up 2.12% during Tuesday's trading at the time of publication.
Through a partnership with collegiate trademark licensing company CLC, EA's new simulation college football "franchise" will include the rights to over 100 institutions featuring official logos, stadiums and uniforms.
Students are currently prohibited from being compensated for the use of their names, images or likenesses under NCAA rules, so EA's game won't include real college players.
However, the US Supreme Court will hear an argument on athlete compensation on March 31, 2021, and EA Sports said it's "continuing to watch those developments closely".
"We've heard from the millions of passionate fans requesting the return of college football video games," said EA Sports EVP and GM Cam Weber. "We love the energy, tradition and pageantry of college football and I am beyond thrilled to say we are back in development. We have a lot of really exciting work ahead of us, and a great team that is eager to bring a new game to players in the next couple of years."
EA is due to report its third quarter financial results later on Tuesday.