EA Sports shares FIFA 21 next-gen images ahead of December release
PS5 and Xbox Series versions will be free for current-gen owners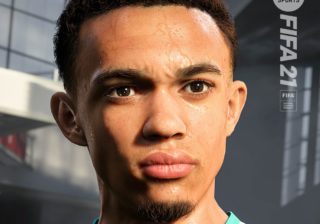 EA Sports has published two new images of FIFA 21 for PlayStation 5 and Xbox Series X/S.
The images, which appear to show in-game models for players Trent Alexander-Arnold and João Félix, offer the clearest indication yet of the level of visual fidelity FIFA 21 could boast on next-gen consoles.
Previously EA Sports shared a handful of posed screenshots, but proper gameplay has yet to be shown for the next-gen version.
FIFA 21's publisher recently confirmed that the next-gen versions would release on December 4, several weeks after the Xbox Series X/S and PlayStation 5 consoles.
In a release published last month, EA promised "blazing fast load times, the most realistic, fluid player movement ever in EA Sports titles, authentic game day experiences inside stadiums and new player detail unlocked by deferred rendering and lighting."
On PlayStation 5, FIFA 21 will also feature new haptic capabilities via the new DualSense controller, EA said.
FIFA 21 will support the publisher's Dual Entitlement scheme, meaning players can upgrade their copy from PlayStation 4 to PlayStation 5, or from Xbox One to Xbox Series X at no extra cost. However, physical discs cannot be used to upgrade to discless consoles such as the PS5 Digital Edition.
In VGC's FIFA 21 current-gen console review, our critic called the game "easily the least revolutionary [instalment], with no major new modes or features to speak of."