EA Sports PGA Tour has been delayed by one year
The publisher's first major golf game since 2015 was previously due this spring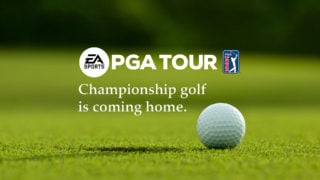 Electronic Arts has delayed the release date of its new PGA Tour game by one year.
The publisher said last November that EA Sports PGA Tour wouldn't make its previously planned spring 2022 release, but it gave no reason for the delay or a new launch window.
On Tuesday it confirmed that the game won't arrive until the spring of 2023.
PGA TOUR 2K21 Announce Trailer - Golf Got Game
Announced in March 2021, EA Sports PGA Tour is the publisher's first major golf game since it stopped using the licence in 2015.
It's in development at Madden studio EA Tiburon and is powered by the publisher's flagship Frostbite engine.
"There are few things in sports that match the thrill of winning a major championship, and we're excited to bring all four majors – the Masters Tournament, PGA Championship, US Open Championship, and The Open Championship – and a true next gen championship golf experience to fans next year," EA Sports general manager Cam Weber said in a statement released on Tuesday.
"Through our PGA Tour and LPGA partnerships, all-new PGA Tour athlete tracking integration, and events like The Players Championship and FedExCup Playoffs, players will be able to get an all-access pass to pro championship golf like never before."
Previously, EA published PGA Tour games between 1990 and 2015, including 16 titles endorsed by Tiger Woods and the most recent one by Rory McIlroy.
In 2020 rival publisher 2K Sports published PGA Tour 2K21 (seen in the video above), and last year it announced a long-term partnership with Tiger Woods.