EA extends footballer player likeness deal, as it mulls potential FIFA name change
Renewed "long-term" partnership with players' union Fifpro announced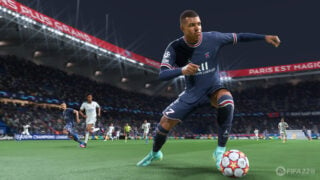 Electronic Arts has extended a deal enabling it to use the names and likenesses of thousands of professional football players in its games.
The publisher announced a "renewed, long-term" partnership with football players' union Fifpro on Tuesday.
"Our players regularly remind us that one of the most important aspects of an EA Sports experience is the deep immersion created through authentic use of the world's greatest leagues, teams and talent — it's how we continue to uniquely blur the lines between the digital and physical worlds of football", said David Jackson, vice president of brand for EA Sports.
FIFA 22 review - video version
Earlier this month, EA confirmed it was "exploring the idea" of renaming its football franchise and was reviewing its naming rights agreement with world football's governing body FIFA.
It has since emerged that the company has filed trademark applications for 'EA Sports FC', which could potentially be the new name for the franchise should it choose to rebrand the series.
Were EA to cut ties with FIFA, it would still hold many separate league, player and stadium licensing agreements with other partners.
"The collective strength of the EA Sports football franchise is fueled by 300+ licensed partners, including Fifpro, who help generate the game's unparalleled authenticity, both now and long into the future," EA claimed this week.