EA explains its decision to add women to Ultimate Team for the first time
"We feel we can play a really important role in the growth of that sport"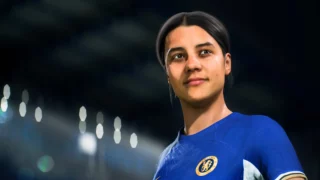 EA has explained its decision to add women to Ultimate Team for the first time.
The game mode, which has been a staple of the FIFA series for a decade, allows players to create teams that consist of both current players and retired or deceased players, known as Icons.
But until now, it's only ever included male players. That will change starting with September's EA Sports FC 24.
"It's something we really thought deeply about," John Shepherd, executive producer at EA, told IGN. "We feel we can play a really important role in the growth of that sport in introducing it to all of our fans. We just have this conviction that we believe we want to unite the world around football.
"Ultimate Team is a great place for that. It is a mode where you can build your fantasy team with different nationalities, different leagues, and different clubs. And so it felt like a great spot to be able to do that."
The decision hasn't gone down well with certain sections of the FIFA community, who have claimed that mixing men and women players is unrealistic.
Senior producer Sam Rivera countered: "Ultimate Team is a fantasy mode. You don't see Mbappe playing with all the Icons. It's Ultimate Team — fantasy football is what's happening there."
Toxicity in the football gaming community is also something EA is looking to tackle in the upcoming game, with the publisher saying it will be taking a stringent approach to policing inappropriate behaviour and content (such as sexist or racist Ultimate Team names).
"It's something we take really seriously," Shepherd said. "It's an ongoing thing. It's a constant effort. We have a team within EA that is fully focused on toxicity and understanding what's happening in the game. We are moving to some newer systems even for this next game, where we're using some new services to help us monitor names."
VGC recently got the chance to go hands-on with EA Sports FC 24.
"There is some sense that this year will see a huge amount of transition, with a significant number of mechanical changes that'll be refined in a year's time, but it's a great start from what we've played," we said in our preview. "It both feels like FIFA 24 and doesn't at the same time, which feels like the perfect balance to us.
"But the real question is, with the reins now off and FIFA's control over the franchise gone, what does EA have up its sleeve to breathe new life into gaming's cornerstone sports franchise?"
Related Products
Other Products
Some external links on this page are affiliate links, if you click on our affiliate links and make a purchase we might receive a commission.