EA expects The Sims 4 to rival Apex Legends, following huge giveaway
EA gave away 7m copies; DLC sales jump 55%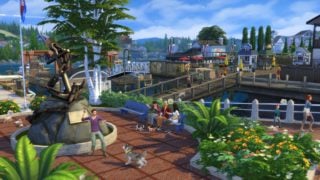 Electronic Arts says it expects 2014's The Sims 4 to deliver comparable net bookings to its popular shooter, Apex Legends, following a hugely successful promotion.
The publisher ran a week-long promotion in May that gave The Sims 4 away for free on its digital game store Origin.
According to Gamasutra, that promotion led to some 7 million downloads of the base Sims 4 game, at the same time as it saw a 55 percent year-over-year jump in add-on purchases.
The Sims 4 was one of the most successful games of the company's most recent financial reports, and EA said that it expects the game to perform on-par with Apex Legends going forward.
EA said that it expects both games to "each deliver net bookings in the $300 million to $400 million range" in the future.
"I think we're doing really, really well attracting Sims players," EA CEO Andrew Wilson said on Tuesday. "As we said, we did the promotion in the last couple of months and brought in 7 million new Sims players that we expect will engage in that community on a platform that is really tailored to user-generated content, creativity and customization."
The Sims 4's add-on packs are available at $40, $20, and $10 tiers based on the amount of in-game content offered. They require the base game to use and amount to about a $560 purchase for the full library.
Elsewhere during EA's earnings call on Tuesday, CEO Andrew Wilson explained EA's lack of support for Nintendo Switch, teased Apex Legends season 3, and confirmed the next Need for Speed game will be revealed at Gamescom.