EA details FIFA 20 gameplay changes
Changes coming for defending, shooting and passing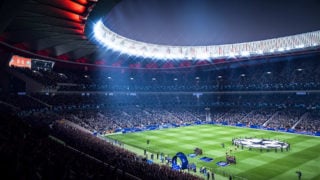 EA has detailed some of the changes it will be making to FIFA 20's on-the-pitch gameplay, ahead of the game's full reveal at the EA Play event on Saturday, June 8.
In a new article on the game's official Pitch Notes blog, the development team has detailed the way the core gameplay mechanics will be changing in the next iteration of FIFA, with particular focus being placed on defending, shooting and passing.
The most drastic changes are being made to the shooting system. Players in one-on-one situations will be more likely to score, with EA promising there will be "less 'superhuman' reactions" from the goalkeeper.
Timed shooting – where pressing the shoot button a second time just as your player hits the ball turns the cursor green and results in a more accurate shot – will also be modified. Players will now only have a window of two frames to hit the button for green shots. Their accuracy will also be reduced slightly.
In terms of defence, the AI defending system will be tweaked to reward players who choose to defend manually. Successful manual tackles are more likely to result in the ball going in the direction of a teammate.
Passing, meanwhile, will see an increased chance of error on more difficult passes (including first-time, 180 degree and pressured passes). Passes in these situations will now be slower and easier to intercept.
The full 23-strong list of changes can be found on EA's Pitch Notes blog.
FIFA 20 is one of six games EA will be showcasing at its EA Play event on Saturday 8 June, just before E3 2019 kicks off.
Instead of hosting a traditional E3 press conference, it will instead be hosting six half-hour livestreams focusing on specific games: Star Wars Jedi: Fallen Order, Apex Legends, Battlefield, FIFA 20, Madden NFL 20 and The Sims 4.
Other titles, like its upcoming Need For Speed game, won't be featuring.