EA confirms 'next-gen' PGA Tour golf game, powered by Frostbite
New title is in development at EA's Tiburon studio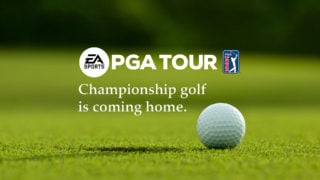 Electronic Arts has announced its "next-gen golf game" EA Sports PGA Tour.
The game is currently in development at EA's Tiburon studio (NBA Live, Madden) and will be powered by the publisher's flagship Frostbite engine, which it says will leverage "stunning fidelity, breathtaking immersive environments, and approachable, dynamic gameplay."
EA has published PGA Tour games since 1990. In 1998, EA published the games with endorsement from Tiger Woods, a relationship that lasted nearly two decades. The publisher's last golf title was 2015's Rory Mcllroy PGA Tour.
The new PGA Tour will allow players to build their virtual career and compete on many of the world's most famous courses, EA said, where fans will have the option to play against and as some of the biggest names in professional golf.
More news will be revealed in the coming weeks, the publisher added, and a launch date will be announced in the coming months.
"EA Sports and the PGA Tour have created some of the most memorable golf video game experiences together, and we couldn't be more excited to expand our sports portfolio with a new golf title on next-gen hardware," said EA Sports GM Cam Weber in a prepared statement.
"Our team of passionate golf fans is meticulously recreating the world's top courses such as Pebble Beach, and we can't wait to give fans the opportunity to compete on some of the most iconic PGA TOUR courses and win the FedExCup."
PGA Tour's licensing boss, Len Brown added: "We've partnered with EA Sports to bring immersive golf video game experiences to fans of all ages for years.
"We are thrilled to continue working with EA Sports on its golf franchise to authentically represent the PGA Tour for the next generation. The newest game will give golf fans another way to experience their favorite sport, or to discover their passion for it."
Last year rival sports games publisher 2K Sports published PGA Tour 2K21, and recently announced a partnership with long time EA ambassador Tiger Woods.
2K announced it had acquired the publishing rights to PGA Tour in 2018, though EA claimed at the time it still had a relationship with the event.