EA awkwardly marks Skate 2's Xbox return by reminding that its servers are shutting down
The classic title was added to Xbox backwards compatibility this week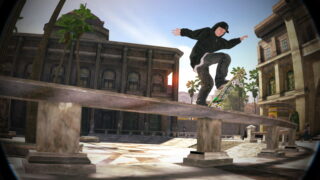 EA awkwardly marked the arrival of Skate 2 on Xbox backwards compatibility on Monday by reminding players that its online servers are shutting down in three weeks.
Skate 2 is one of 76 Xbox 360 and original Xbox titles that were added to the backward compatibility library for Xbox One and Xbox Series X/S on Monday.
EA's official Skate twitter account acknowledged the news by retweeting Xbox's tweet celebrating the newly added backwards compatible games.
However, it then immediately posted a follow-up tweet telling players that it would be turning off the game's online servers soon.
"Additionally, we're providing a heads up that on December 10, 2021, we will be turning off the Skate 2 online servers for PlayStation and Xbox," it tweeted. "It's not an easy decision and not something we take lightly."
EA announced in June 2020 that it's working on a fourth Skate game, then confirmed in January 2021 that it's being developed at a new Vancouver-based studio called Full Circle.
The studio is headed up by former Xbox Live general manager Daniel McCulloch, who spent 15 years with Microsoft's gaming business before departing in June 2020.
EA says Skate's creative leadership, game director Deran Chung and series producer Chris Parry, were both central to the creation of the franchise and the development of the three original games, the last of which released in 2010.
Skate 2 was one of more than 70 games added to Xbox's backwards compatibility library, along with the likes of the entire Max Payne and FEAR franchises, Dead or Alive Ultimate, Jedi Knight 2 and Red Dead Revolver.
Peggy Lo, compatibility program lead for Xbox, said the latest backward compatibility update will be the last one due to several constraints.
"While we continue to stay focused on preserving and enhancing the art form of games, we have reached the limit of our ability to bring new games to the catalogue from the past due to licensing, legal and technical constraints."