EA and Codemasters reveal F1 2021, with new story mode and July release date
The game's career mode is also adding a two-player option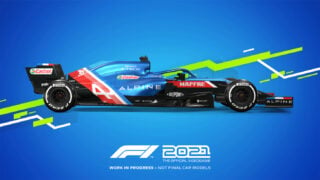 Electronic Arts has announced F1 2021, which will feature a new story mode when it is released for consoles and PC this summer.
Codemasters' first release since it was acquired by EA will be available for PS5, PS4, Xbox Series X/S, Xbox One, and PC via Steam beginning on July 16, 2021.
The new 'Braking Point' story mode will let players experience the racing lifestyle on and off the track as they bid to move up through the ranks, from Formula 2 to a shot at Formula 1 glory.
The game's career mode is also adding a two-player option enabling users to play with friends co-operatively or competitively, with each player having complete control over the assists.
And F1 2021's 'Real-Season Start' feature will let players join the current real-life season by using the live standings and driving the remaining races.
The PS5 and Xbox Series X/S versions of the game promise a "visual uplift and faster loading times", and the title will support both Xbox Smart Delivery and PlayStation's free upgrade scheme.
EA said returning features include My Team, two-player split-screen, shorter seasons, accessible options, and F2, while scalable assist options, driver stats and multiplayer are being expanded and refined.
Customers who pre-order the game will receive the Braking Point Content Pack, featuring exclusive in-game items inspired by the new story mode's stars and 5,000 PitCoins.
A digital Deluxe Edition of the game will include seven classic F1 drivers for My Team, three days' early access, additional customisation content, 18,000 PitCoins and the Braking Point Content Pack.
Free post-launch content will include new circuits Portimão, Imola, and Jeddah.
EA officially completed its acquisition of Codemasters in February. Discussing the strategic rationale of the deal prior to its completion, EA said the move would create "a global leader in racing entertainment" and enable it to "release new racing experiences annually".