E3 organiser appoints new president and CEO
Stanley Pierre-Louis had been acting head since October 2018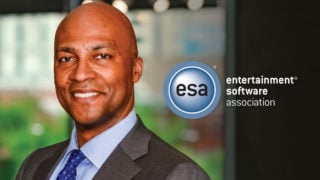 E3 organiser the Entertainment Software Association (ESA) has announced the permanent appointment of Stanley Pierre-Louis as its new president and CEO.
Pierre-Louis joined the ESA, the trade body which represents the US video games industry, as its general counsel in May 2015.
Read our E3 2019 dates schedule for every conference and live stream date.
He has been serving as acting president and CEO since his predecessor Michael D. Gallagher stepped down in October 2018 following more than a decade in the role.
Prior to joining the ESA, Pierre-Louis was SVP and associate general counsel for intellectual property at Viacom, where he was responsible for managing IP litigation for brands including Nickelodeon, MTV and Paramount Pictures.
"Stan's strategic vision, years of entertainment industry experience, and policy expertise make him the ideal choice to lead our industry through this period of growth and opportunity," said Robert Altman, chairman of the ESA board and chairman and CEO of Bethesda parent company ZeniMax Media.
"I look forward to leading the ESA and advocating for the industry with a strong voice and clear vision," said Pierre-Louis. "The future of our industry is bright and limitless. Video games are a part of the fabric of American culture and a cornerstone of entertainment."
The announcement comes shortly after Pierre-Louis moved to play down reports of disharmony at the ESA following a Variety investigation based on accounts given by current and former employees and industry professionals.
It's claimed that one subject of internal debate is whether it makes sense for the organisation to continue dividing its focus between lobbying on behalf of the games industry and running E3.
"Every transition has challenges and opportunities and I'm really excited about the way our team has risen to those challenges to create great opportunity," Pierre-Louis told the site.
"We are excited about where the ESA is and where it is headed," he added. "One of our important goals is to ensure that the success of the video game industry gets told, to help shine a light on the benefits of video gaming."
The ESA said the US video games industry provides over 220,000 jobs in all 50 states, and more than 520 colleges and universities in 46 states offer courses or degrees related to video games.
About 65% of American adults, or 164 million people, play games according to research recently published by the ESA.