E3 media attendance and coverage has declined, study finds
PR firm behind research says annual show "looks to be in rough shape"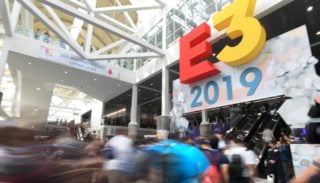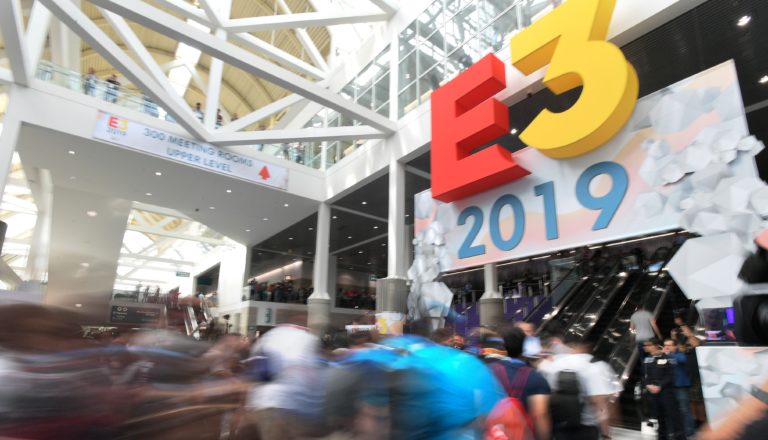 E3 media attendance and coverage has declined in recent years, according to newly published research from PR firm Evolve.
According to figures from E3 owner and organiser the Entertainment Software Association (ESA), 2,024 individual members of the media attended E3 2019, up from 1,631 in 2018, but down from 3,000 in 2017 and 2,492 in 2016.
For its study, Evolve used a working sample comprised of 10% of traditional online media outlets and 10% of influencers who attended E3.
Based on its collected sample pools, just 562 different traditional media outlets attended E3 in 2019, down 51% compared to 1,141 different outlets that attended E3 2017.
Evolve's influencer sample showed attendance dropped 23.5% during the same period, from 469 qualifying channels in 2017 to 360 channels in 2019.
It noted that several factors likely contributed to the declines, including the closure of a number of outlets over the past few years and its reclassifying of podcasts into the Influencer sample rather than the traditional media one.
"That said, even taking those things into consideration, the cold fact remains that a much smaller number of relevant outlets attended E3 this year as compared to 2017, which of course resulted in less coverage overall," wrote Matt Broitman, client support and research coordinator at Evolve PR.
Evolve's traditional media sample produced a total of 1,217 pieces of first-hand show floor coverage between June 8 and June 21. While there was an increase of 4.2 more qualifying articles per outlet compared to 2017, the smaller number of outlets in attendance meant the total number of articles declined 39.5%.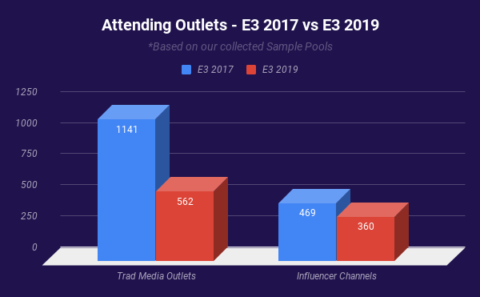 "Previews were down roughly 5% from 2017, while interviews were up roughly 5%," Broitman said. "And of 240 games covered in total, about 40% only saw a single article or mention within the two weeks following E3."
Evolve's influencer sample produced 47 pieces of qualifying coverage across 34 different channels.
"Honestly with so little to work with from this side of the sample, there really isn't much that can be said beyond that attending influencers just aren't creating coverage at E3, at least not in the volume that might be desired," Broitman wrote.
With an increased public presence at the show, major players like PlayStation and Activision abandoning the event, and media outlets able to cover it more easily from home than in the past, the report suggests "in its current state, E3 looks to be in rough shape and is a dicey proposition for a lot of parties".
It concludes: "The pool of first-hand coverage that came out of E3 this year has shrunk comparatively, and what remained went even further to those big names, leaving smaller titles high and dry.
"This results in E3 having lost its identity and failing to excel in any given category; it's too expensive to be a public focused show like PAX, too crowded and public to be an industry focused event like GDC or DICE, and too broad and loud to generate the undivided attention that larger scale in-house efforts like a Nintendo Direct or even a basic press tour can produce."
Earlier this year, the ESA leaked the personal details of 2,000 E3 2019 media attendees, including their home addresses and phone numbers.
And the following month it emerged that the ESA was considering rebranding the long-running industry event as a "fan, media and influencer festival" for E3 2020.
Evolve's report was written before the ESA data leak and articles about plans to rebrand the show were published, so doesn't take either into account.