Dying Light 2 now has an official release date
Techland's delayed zombie sequel will be released in December
Techland has finally announced an official release date for Dying Light 2: Stay Human.
The sequel to the 2015 open world zombie game will be released on December 7, 2021, and will be released on Xbox Series X/S, Xbox One, PS5, PS4 and PC.
The date was announced as part of the first episode of Dying 2 Know, a new YouTube series designed to give players updates on the game's progress.
The video showed off a new 7-minute gameplay trailer that let players see the game's current state.
Techland also announced that the game will be made available in three digital versions and three physical versions.
The digital versions will come in Standard, Deluxe and Ultimate editions. The Deluxe edition includes a Legendary skin pack, exclusive weapon charms, wallpapers and digital comic, soundtrack and artbook, as well as the game's first story DLC. The Ultimate edition, meanwhile, includes all that plus a '2H Night XP Boost', crafting items and the second story DLC.
The physical versions will be the Standard Edition, which contains the game and a pre-order 'Reload outfit' bonus, and a Deluxe Edition which includes the same add-on content in the digital version plus a steelbook.
There will also be a special Collector's Edition, which includes a copy of the game, a steelbook, an artbook, a UV flashlight, three postcards, some UV stickers, a map of the city and a 'Defender of the City' statuette with a built-in UV lamp.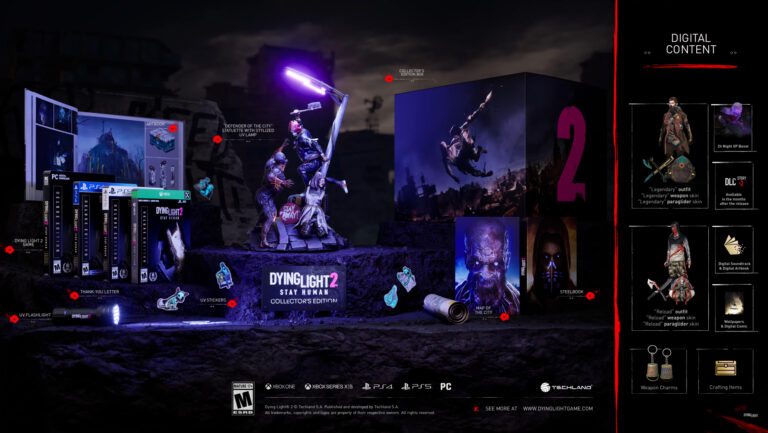 The follow-up to 2015's open-world zombie survival title was originally scheduled for a spring 2020 release, but that launch window was delayed last January.
In March, the Dying Light 2 team addressed impatient fans by reading out some of their most abusive tweets and assuring them the game is planned for release this year.
"This is a huge and complex project and we needed time to make sure it will live up to our vision," said Techland CEO Paweł Marchewka. "All of us here are putting our hearts into delivering a game that you will keep playing for months.
"We will be ready to start talking about Dying Light 2 very soon."