Dying Light 2 has been delayed again and is now planned for 2022
Techland says it needs "more time to polish and optimise" the sequel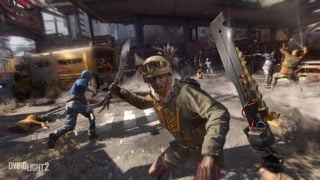 Dying Light 2 has been delayed again and will now be released in 2022.
The survival horror FPS, which was previously due to be released on December 7, will now be released on February 4, 2022.
Developer Techland's CEO Paweł Marchewka confirmed the latest delay with a message to fans on the Dying Light Twitter account.
"The team is steadily progressing with the production and the game is nearing the finish line," Marchewka, said. "The game is complete and we are currently playtesting it.
"It is by far the biggest and the most ambitious project we've ever done. Unfortunately, we've realised for us to bring the game to the level we envision, we need more time to polish and optimise it. That is why we have decided to move the release date to February 4, 2022.
"We are sorry to keep you all waiting a little longer, but we want the game to meet your highest expectations on release and we don't want to compromise on this."
This is the latest in a series of delays that will now push the release date for Dying Light 2 to roughly two years later than originally planned.
The follow-up to 2015's open-world zombie survival title was announced at Xbox's E3 2018 briefing and was originally scheduled for a spring 2020 release, but that launch window was delayed in January 2020.
Development was then disrupted in June 2020 with the departure of narrative designer Chris Avellone following allegations of sexual harassment.
In March this year, the Dying Light 2 team addressed impatient fans by reading out some of their most abusive tweets and assuring them the game was planned for release this year.
This was followed in May with the game's first official release date of December 7, 2021, which has now been pushed to February 4, 2022.