Dwayne 'The Rock' Johnson says he's starring in another video game movie
The action star says he's bringing "one of the biggest, most badass games" to the big screen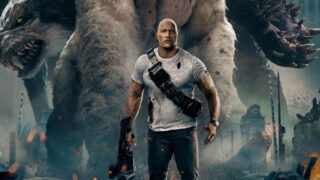 Dwayne 'The Rock' Johnson has revealed that he'll be starring in another movie based on a video game.
Although he didn't confirm the game in question, Johnson told Men's Journal that it's based on something he's "played for years".
When asked about his connection with video games and whether he had plans to make any more game-related movies in the future, Johnson shared that he was a big fan of the Madden games before adding: "I can't tell you which game in particular we're doing, but there will be an announcement this year.
"We're going to bring one of the biggest, most badass games to the screen – one that I've played for years.
"I'm really excited to bring it to fans around the world. Of course we're going to do right by our gamer friends, but really we're just going to make a great movie."
Johnson is no stranger to movies about video games. One of his earlier film roles was in the 2005 movie adaptation of Doom, where he played squad leader Sarge.
More recently, he also starred in the 2018 film Rampage, which was based on the Midway arcade games of the same name.
He was also in Jumanji: Welcome to the Jungle and its sequel Jumanji: The Next Level, in which he plays a video game character.
Johnson has also dabbled with video game appearances. The 2006 game Spy Hunter: Nowhere to Run starred Johnson as the protagonist, while most recently he's portrayed The Foundation in Fortnite, where he made an appearance during the end of Season 2.
Other upcoming movies based on video game properties include February's Uncharted film starring Tom Holland and Mark Wahlberg, April's Sonic the Hedgehog 2 featuring Jim Carrey and Idris Elba, and December's Illumination-produced Super Mario animated movie, in which Chris Pratt will voice the Nintendo mascot.