Dragon's Dogma 2 takes inspiration from GTA 5, director says
Hideaki Itsuno says he admired how the game handled NPCs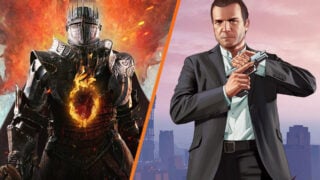 The director of Dragon's Dogma 2 has cited Grand Theft Auto 5 as a key inspiration.
In an interview with VGC, we asked game director Hideaki Itsuno if there were elements from other games that inspired development on Dragon's Dogma 2, given how far the fantasy RPG genre has evolved in the decade since the first game.
Itsuno replied that the studio's main focus was just to build on the original with features that weren't possible back then.
"We mostly just wanted to take things that we couldn't achieve in Dragon's Dogma at the time it came out, whether it be from just lack of time or pushing the limits of the hardware that was around at the time," he told us.
"So the main inspiration was sort of ourselves, and finally being able to achieve what we wanted on this current console generation."
However, in terms of other games providing inspiration for the studio, Itsuno revealed that it wasn't a fantasy RPG, but Rockstar's GTA 5, that impacted most on development.
"If I had to pick one other game that came out in the meantime, I would actually say GTA 5," he explained. "I kind of admired how they were able to create a world in which it really felt like the NPCs were going about their lives independently of the player.
"All kinds of interesting emergent behaviour could happen whenever you were exploring the city and all kinds of weird accidents felt like it would happen whether you were there or not.
"That feeling of a living world is something that I've definitely tried to achieve in Dragon's Dogma 2."

Dragon's Dogma 2 was announced last year during a live stream celebrating the original game's 10th anniversary.
In a new hands-on Dragon's Dogma 2 preview, VGC said the sequel "feels a lot like the first game, and that's a good thing".
"So far, Dragon's Dogma 2 certainly feels a lot like the game that has come before it, though we have to bear in mind it's still the first playable build at a relatively early part of the game," our writer said.
"As long as it remains weird for all the reasons its most hardcore fans have championed it all these years, that's no bad thing at all."