Dr Disrespect will stream on YouTube, one month after his shock Twitch ban
YouTube says it does "not take action solely because other platforms have"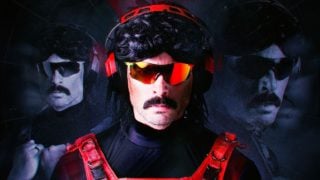 Guy 'Dr Disrespect' Beahm will start streaming on YouTube, following his high-profile ban from Twitch just over a month ago.
In a statement, Beahm said he had no plans to stream on other platforms such as Facebook Gaming. However, neither has he signed an exclusive deal with YouTube.
Amazon-owned Twitch banned Dr Disrespect in June without providing any explanation for its decision. Last month Beahm claimed he still didn't know why he was fired by the streaming platform.
Dr Disrespect was one of Twitch's most popular streaming personalities prior to the termination of a recently signed exclusivity deal with the platform said to have been worth as much as $10 million a year.
The streamer had even signed a TV development deal with Skybound Entertainment just last year.
According to industry insider Rod Breslau, Beahm's latest Twitch ban is permanent and not temporary like the one he received in 2019 for broadcasting from an E3 restroom. Kotaku has also reported that the ban is permanent.
When asked for comment by GamesIndustry.biz, YouTube said that it evaluates channels based on the content they upload or link to, and do not take action solely because other platforms have taken action previously.