Dr Disrespect is excited for '$100k' blockchain items in games
The streamer, who is now creating a video game, calls NFT critics "brain dead"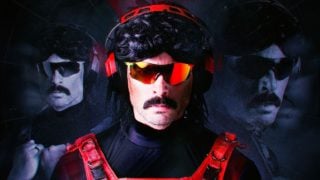 Popular streamer Guy 'Dr Disrespect' Beahm has doubled down on blockchain games and criticised those who have spoken against the controversial technology.
Beahm, best known for his irreverent personality when streaming games like Call of Duty: Warzone and PUBG, recently founded developer Midnight Society, which is working on a PvP shooter called Deadrop.
The game will make use of NFTs, and players are able to buy a 'Founders Pass' NFT which gives them a unique skin. On Sunday, Beahm shared his excitement for how he believes extraction-style shooters could utilise NFTs, and called critics "brain dead".
"Imagine trying to 'extract' with an item you discovered worth $100,000 on the chain. Think about entertainment value as a viewer let alone player. A new pvp experience is upon us," he wrote.
"The concept of digital collectibles in an online game is so exciting to me. Especially an extraction type of game. People saying scam and 'ugh' are just brain dead headline followers. Same people that spend a ton on skins for an annual release game.  Same skins everyone has too."
NFT, or 'non-fungible tokens' are a unique non-interchangeable unit of data that is stored in a digital ledger. This means that things like images, music and even in-game items can be sold to a specific owner that can be verified via the blockchain.
Blockchain companies claim NFTs will revolutionise digital ownership. Numerous game companies have attempted their own NFTs initiatives, including Konami, Ubisoft and Atari. However, this attracted widespread criticism due to the format's high carbon footprint and what many perceive to be cynical implementation.
Ubisoft, for example, briefly sold NFT items for Ghost Recon Breakpoint, which were essentially generic skins with unique serial numbers printed on them. This was met with overwhelming backlash by players.
Indie marketplace Itch.io has called NFTs a scam, while Microsoft's head of gaming Phil Spencer said in 2021 that he felt current implementation was "more exploitive than about entertainment".
Mention of the tech surged in 2021 when many major companies and celebrities launched their own initiatives, including Nike and McDonald's.
However, according to the Game Developers Conference's annual State of the Game Industry Report, which asked over 2,700 developers about their work, 70% of those surveyed said they had no interest in adding NFTs to their games. Sales of NFTs are also said to have dropped sharply during 2022.
A common sentiment from those surveyed was reportedly the cynical implementation of NFTs seen so far, which some anonymous developers claimed was predatory.
"Blockchain is a foundational technology that will transform organizations and accountability, but NFTs and cryptocurrencies in general are a scam," wrote one developer.
Related Products
Other Products
Some external links on this page are affiliate links, if you click on our affiliate links and make a purchase we might receive a commission.