Doom Eternal 'gets the most out of PS4 and Xbox One', claims producer
"This game is, I think, the best technology we've ever made"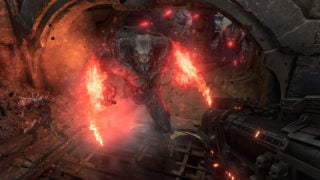 Id Software is pushing current-gen console hardware towards its limit with the technology powering shooter sequel Doom Eternal, the game's producer has claimed.
Speaking to VGC in January, exec producer Marty Stratton claimed that the console version of Eternal was "really special" thanks to the developer's strong understanding of the aging console platforms.
"This game is, I think, the best technology we've ever made," he said. "We're at the end of a hardware cycle where engine teams really understand the hardware and are getting the most out of it.
"We've increased graphics fidelity, polygon count… everything is pushed in this game and it still runs on all the consoles that Doom 2016 ran on."
He added: "It's fantastic. I can't tell you enough about how good it looks on PS4 and Xbox. If you play on consoles you've got something really special to look forward to."
Following a four-month delay, the Doom Eternal release date is March 20, 2020 for Xbox One, PS4 and PC.
According to Stratton, Doom Eternal will be double the size of its 2016 predecessor.
"It's the most epic and best thing that we've ever created at the studio," he said.
"Our levels are bigger than they've ever been, we have double the amount of demons and from beginning to end you're going to experience things that are always new.
"I refer to this as sort of the game version of a 'page-turner'… even down to the last boss fight, you're going to see things that you hadn't up to that point."
Read VGC's recent Doom Eternal preview for more on the sequel.