Doom Eternal composer accuses Id Software director of lying about the original soundtrack's failure
Mick Gordon claims he was offered six figures to stay quiet about it, but refused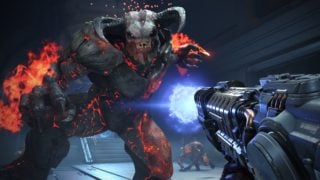 The composer of Doom Eternal has accused Id Software's studio director of lying about his part in the failure of the game's official soundtrack.
The soundtrack was included as part of the Collector's Edition of the game, promising "lossless" and "uncompressed" audio files featuring composer Mick Gordon's music.
However, when the soundtrack was released players complained that only 11 of the 59 tracks had been mixed by Gordon himself, while the rest had been mixed from music fragments taken from the game.
In May 2020, Id Software studio director Marty Stratton posted a lengthy statement on Reddit claiming that Gordon had delayed the soundtrack, then underdelivered, forcing Id to get the game's lead audio designer to make up the rest of the tracks.
However, in a detailed statement posted today on his own Medium page, Gordon has refuted Stratton's claims and is accusing him of not only lying about the situation, but also offering him a six-figure sum to stay quiet about it.
Gordon's 14,000-word statement details his entire experience working on the game, from his initial agreement to sign on until the backlash surrounding the soundtrack.
According to Gordon, Doom Eternal was "a difficult project" to compose the score for, because Id allegedly required him to provide two levels' worth of music per month, despite most of the game not yet existing.
Gordon claims that the continuing changing development of the game led to numerous rewrites and the need to continually scrap submitted music, and that while he had proposed a different schedule Stratton allegedly criticised his ability to do the work.
"He rejected my belief that the current schedule was flawed and suggested my act of trying to do something about it was a sign of incompetence," Gordon alleges.
"Refusing to accept the reality of the situation, he threw the proposal back in my face and proceeded to tear me down for having the audacity to raise the issue in the first place."
Gordon also claims that he wasn't paid until eight months into the project, and then wasn't paid again for another 11 months.
He then goes on to discuss Bethesda's E3 2019 Showcase, in which it announced the Collector's Edition of Doom Eternal, which would include "Mick Gordon's original Doom Eternal soundtrack".
According to Gordon: "The standalone OST wasn't in production, and I hadn't been offered a contract to produce it. In fact, we hadn't talked about the scope, the timeframe, or whether it was even feasible.
"E3 events are planned months in advance, well-rehearsed, and carefully managed, but nobody thought to discuss the OST with me in any way whatsoever. I learned about it in the media."
Gordon claims that once the game was released, he discovered that all the "rejected tracks, mockups, demos, ideas and sketches" he had supplied but was under the impression weren't being used, ended up all being added to the game.
According to him, this meant they used 4 hours and 46 minutes of his music, but only paid him for 2 hours 22 minutes, leaving 2 hours 24 minutes unpaid.
It then came time to produce the soundtrack (OST), which is separate from the in-game soundtrack because it consists of standalone tracks, rather than small segments which are mixed in real-time depending on in-game situations.
Gordon claims that he agreed to produce 12 songs for the OST, and that the deadline was April 16, but also claims that Bethesda told him this deadline was flexibile, with a bonus paid if he met it.

However, he then claimed that Stratton emailed him 13 days before the deadline, telling him the April 16 date was now a necessity, because "consumer protection laws in some territories meant anyone who purchased the Collector's Edition was entitled to a full refund if they didn't receive the OST by April 20".
Gordon says he interpreted this as a threat that he would be legally liable for any loss suffered by Id Software if the OST was late.
"The fact that this critical piece of information had been withheld from me until after I'd signed the contract made the whole thing feel like a setup to shift liability caused by selling the OST without a contract in the first place," he claimed.
Gordon then claims he discovered that Id's lead audio designer had been working on the alternative soundtrack for six months without his knowlegde, and that when he had been sent the tracks he felt "the content fell far short of expectations".
Gordon says he crunched 18-20 hour days to finish the tracks on time, but that Stratton decided with five hours to go that he wanted different songs instead.
"I shot back that their rapidly crunching schedule and imminent deadline meant it was too late for a change in direction and that I'd prefer to use the little time remaining to work on the music rather than entertain his sudden last-minute interest in the OST," Gordon says.
"He said they would release Chad's version instead. He told me to hand over my tracks, and Chad would assemble the final OST."
Gordon claims he didn't get to hear the final soundtrack until it was released, and that "upon hearing the album for the first time, [his] heart sank".
"Alongside my direct contributions were an additional 47 tracks made by poorly editing together bits and pieces taken from my in-game score," he says. "They exhibited the same thoughtless disregard for basic music fundamentals that plagued the preliminary edits id Software showed me a week earlier."
He adds: "I was stunned at the ineptitude and couldn't believe what I was hearing. Track after track was full of real, obvious technical faults, mistakes, and errors resulting from careless editing."
Gordon claims that he had a Skype chat with Stratton following the release of the OST to share his concerns.
"After he spent some time chastising me for my lack of public support, he charged that the failure of the OST was entirely my fault," Gordon alleges.
"I shot back that it wasn't my decision to include 47 poorly edited tracks. I hadn't even heard their final album before release. He directly accused me of failing to take ownership and insisted I take full public responsibility.
"I countered there was absolutely no way I would take the fall for something I didn't do."
He then alleges: "We cleared the air and bashed out a plan to work together. Marty suggested we publish a joint statement that addressed the OST situation and detailed our plans to fix the album, and I felt this was an excellent first step.
"He requested I hold off on all further public comments until we address the public together. I agreed to his request and said I was at his discretion."
Instead, according to Gordon, Stratton proceeded to post the 'open letter' on Reddit in which he blamed Gordon for the poor quality of the OST.
"Marty told me to expect the draft [joint statement] within hours, but it never arrived," Gordon's statement concludes.
"Instead, days later, he published a 2500+ word 'open letter' on a fan-run Reddit page that singled me out as the sole cause behind the botched OST.
"The post attracted thousands of comments and news articles and severely damaged my personal and professional reputation. Worst of all, he did it behind my back whilst leading me on with a bullshit story about working together on a professional solution to the problem.
"His statement was full of lies, disinformation and innuendo, and when challenged, his company offered me a six-figure sum to shut up about it.
"When I tried, time and time again, amid a torrent of abuse, harassment and threats, to resolve the matter more amicably, he constantly refused, worried how addressing the Reddit post would damage his own reputation instead.
"But as far as I'm concerned, truth and honesty are more important: Marty's words damaged my character and attacked my reputation. I have afforded him ample opportunity to address this issue, but his refusal to do so has left me with no option other than to issue this statement.
"In issuing this statement, I'm exercising my right to defend myself."
Related Products
Other Products
Some external links on this page are affiliate links, if you click on our affiliate links and make a purchase we might receive a commission.