Doom 3: VR Edition revealed for PlayStation VR ahead of March release
Package includes the expansions Resurrection of Evil and The Lost Mission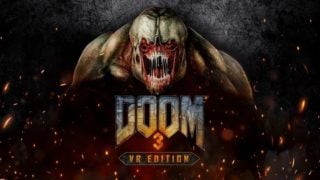 Bethesda has announced Doom 3: VR Edition for PlayStation VR.
The game will be released for PS4 on March 29 and is backwards compatible on PS5.
Doom 3: VR Edition includes action horror game Doom 3, which sees the Doom Marine fighting for survival on a Mars facility overrun by demons, plus its expansions Resurrection of Evil and The Lost Mission.
VR enhancements enable players to look around corners, direct weapon shots with motion controls, 180-degree quick-turn functionality and a new wrist-mounted display for tracking health, armour and ammunition.
UPDATE: Following Doom 3: VR Edition's announcement on Wednesday, Sony revealed five more games coming to PlayStation VR.
ORIGINAL STORY CONTINUES: "Uncover the secrets of the UAC's unholy experiments, encounter uncanny monstrosities in claustrophobic environments, and wield an arsenal of iconic (and even otherworldly) weaponry with new textures, shaders and sound effects as you survive against the forces of Hell across over 15 hours of heart-stopping action," Parker Wilhelm, associate content manager for Bethesda Softworks, wrote on the PlayStation Blog.
A year after the release of 2016's Doom, Bethesda launched ID Software's Doom VFR, a standalone virtual reality game set during the events of the series reboot.
Sony announced in February that it's working on a "next-generation VR system" for PS5. Launching after 2021, the headset will feature improved resolution, field of view tracking, and utilise a new VR controller.