Doki Doki Literature Club Plus adds content warnings before disturbing scenes
The new warnings are optional for those who may be affected by the game's themes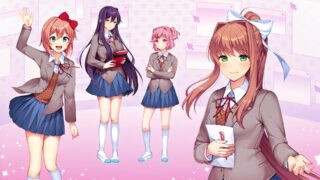 The upcoming expanded version of visual novel Doki Doki Literature Club will include content warnings before key disturbing scenes.
The game is notorious for presenting itself as a light-hearted, charming dating simulator that eventually becomes extremely dark.
The new version, Doki Doki Literature Club Plus, will now add warnings that appear in-game just before a disturbing scene is about to play out.
These warnings can be turned off for those who want to experience the game as it was originally intended, but those who may be upset by the game's darker themes can now choose to be given prior warning right before a particularly distressing moment.
"We hope that this feature provides an option to those who would like to play through the game relatively unspoiled, but still want to be warned before potentially sensitive parts of the game," explained developer Team Salvato's community manager Joseph Boyd in a blog post.
"We do want to mention that while we did our best in placing these content warnings where we thought they would be most effective, everyone's experience is different. Because of this, we intend to update this feature as time goes on with warnings in places we might have originally missed."
The game will also make improvements to the general warning that shows when it first launches. While the original game opened with a warning that it has potentially upsetting themes and gave players a URL that directed them to a website listing those themes, the re-release will add the list in-game to ensure all players can access it.
While the original game was free, Doki Doki Literature Club Plus will be a paid product and will be released on June 30 for Switch, PS5, PS4, Xbox Series X/S, Xbox One and PC.