Disney Speedstorm nerfs its most powerful character after implying it wouldn't
Mike has been weakened while Sully has been improved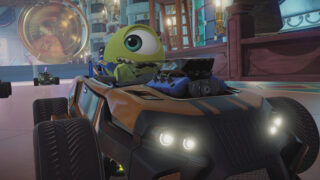 Disney Speedstorm has received a hotfix which nerfs its most powerful character, after the game's studio previously implied it wouldn't be taking any action.
The new update, which doesn't require any download, has weakened Mike Wazowski's 'Hold the Door' skill, which a number of players believed was too powerful.
The update also strengthens Mike's friend Sulley, who's generally considered one of the weaker characters in the game.
Before the update, Mike's special move generated two doors. Passing through either of them would teleport him a great distance forwards, and if an opponent passed through one they'd instead teleport a great distance backwards.
The special move's use as both an extremely effective offensive and defensive weapon has led to high-level ranked multiplayer races often being comprised mostly up of Mikes, leading to numerous players calling for studio Gameloft Barcelona to weaken the character.
The update will now see Mike spawning one door instead of two when his special move is normally activated. If you charge the move it will still spawn two doors, but they appear further down the track.
The distance players will teleport has also been reduced, and the doors will now disappear after 10 seconds (instead of 20 seconds previously).
Meanwhile, Sulley's unique skill Fearsome Roar has been strengthened, making it easier to hit enemies and filling his boost meter at the same time.
Earlier this month, Gameloft Barcelona said it wouldn't be nerfing Mike just yet, claiming the main reason for his popularity was because the game's first Season has a Monsters Inc theme and players have been levelling up Mike quicker as a result.
"As players upgrade other Racers to match Mike's level, we should see other Racers and Racer Classes become top picks for players to compete with," it previously claimed.
"Additionally, as more players unlock, upgrade and become comfortable with more Racers and Racer Classes, we expect to see the gameplay experience naturally balance out and a more varied set of Racers on the winner's podium."
The full patch notes for today's update are as follows:
Disney Speedstorm – May 16 Hotfix Patch Notes
Racer Balancing
Mike Wazowski
Normal Activation of the "Hold The Door" Unique Skill will now spawn 1 door instead of 2. Charged Activation will still spawn 2 doors.
The distance players are teleported by doors in both directions has been reduced by 10%.
Doors will now disappear after 10 seconds. (Down from 20 seconds)
Sulley
The Area of Effect (AOE) of the "Fearsome Roar" Unique Skill has been increased, making it easier to stun rival Racers.
The shape of the AOE has also been adjusted to make it easier to stun rivals.
The effect "Fearsome Roar" has on rival Racers has been changed from a long stun to a shorter stun and now has knock back.
Activating "Fearsome Roar" will now refill Sulley's Manual Boost Bar whether rival Racers have been stunned or not.
Additional Manual Boost is now received by Sulley for each rival Racer stunned by "Fearsome Roar".
Fixes
Unique Skills
Fixed an issue causing the effects of the Charged Activation of Celia Mae's Unique Skill "Snake And Shake" to persist for the duration of a race under certain circumstances.
General
Fixed an issue causing players to sometimes get stuck in an infinite respawn loop after falling off a grind rail on the Toon Village racetrack.
Fixed an issue causing Founder's Pack Welcome Screens from appearing every time the game is launched on PS4.
Fixed various crash instances.
Various Stability improvements.
Related Products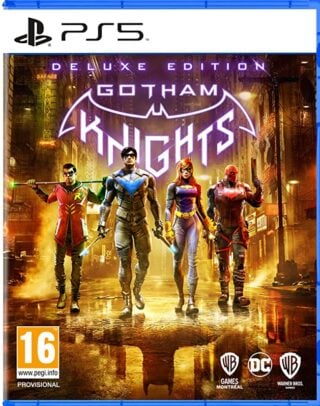 Gotham Knights - Deluxe Edition (PS5)
Other Products
Some external links on this page are affiliate links, if you click on our affiliate links and make a purchase we might receive a commission.