Disco Elysium: The Final Cut dated in new PlayStation indie games showcase
Sony delivers reveals and updates for seven indie games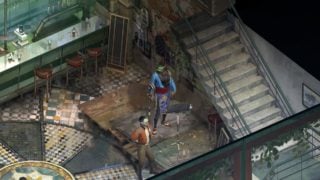 Disco Elysium: The Final Cut will be released for PS4, PS5, PC and Mac on March 30, 2021.
Introducing full voice acting and additional quests, the updated version of the celebrated detective RPG—which won three prizes at the 2020 BAFTA Games Awards and two prizes at the 2020 Game Developers Choice Awards— will also be released for Xbox consoles and Switch at a later date.
Its March release date was announced on Wednesday as part of a new PlayStation indie games showcase which also spotlighted six other titles.
Operation: Tango will see an agent and a hacker work together to solve cooperative puzzles when it releases for PS5 and PS4 this spring.
Also coming to both consoles this spring is Chicory: A Colorful Tale, a top-down adventure game in which players assume the role of a dog who must restore colour to the world using a magic paintbrush.
Nour: Play With Your Food will offer an "interactive exploration into the aesthetics of food and drink" when it arrives for PS5 this summer.
Surreal narrative adventure Where the Heart Leads hits PS4 and PS5 on July 13, 3D jigsaw puzzle VR game Puzzling Places launches in the winter of 2021, and physics-based spatial puzzler Heavenly Bodies is also due for release later this year.
The PlayStation Indies initiative, which is designed to champion the most exciting independent games and "make PlayStation the best place to develop, find, and play" them, was announced in July 2020 and is headed by former Worldwide Studios boss Shuhei Yoshida.
Disco Elysium – The Final Cut
Operation: Tango
Chicory: A Colorful Tale
Nour: Play With Your Food
Where the Heart Leads
Puzzling Places
Heavenly Bodies