Disco Elysium is coming to Switch 'soon'
Award-winning game also headed to PS4 and Xbox One in 2020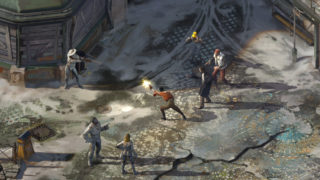 Celebrated detective RPG Disco Elysium will be released for Nintendo Switch, developer ZA/UM has said.
Studio art director Aleksander Rostov and Disco Elysium writer Helen Hindpere were asked whether there are plans to bring the game to Nintendo's console during the latest episode of the BBC's Let's Talk About Tech podcast.
"This interview is, at this very moment, interrupting me from writing up design documentation for the user interface and input systems for the Switch port", Rostov replied.
"So yeah," Hindpere added, "I think it's going to happen soon."
Disco Elysium released for PC in October 2019 and is also headed to Xbox One and PS4 in 2020.
Designer and writer Robert Kurvitz told USgamer last year: "It plays really, really nicely on a controller because […] you don't need to click around and give specific tactical commands, which the controller isn't very good at."
Last month Disco Elysium won three prizes at the 2020 BAFTA Games Awards (Debut Game, Music and Narrative) and two prizes at the Game Developers Choice Awards (Best Narrative and Best Debut).