Dirt 5 gets Xbox Series X reveal trailer and 2020 release
Codemasters unveils the next entry in its off-road racing series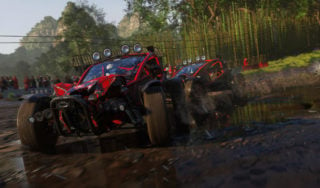 Codemasters has announced Dirt 5 with an Xbox Series X reveal trailer.
The globetrotting off-road racer was unveiled during an Inside Xbox live stream on Thursday.
The game will be released this year for both Xbox One and Xbox Series X.
While Microsoft has yet to confirm a lunch date for its next-gen console, the game will debut in October.
Dirt 5 will support Microsoft's Smart Delivery scheme, which lets players buy a game once and play it across multiple Xbox generations.
"We wanted to go bigger, in all possible ways," Codemasters social and community manager Chris Groves told Xbox Wire. "Take Career, which hands you a deep story-based mode with a star-studded cast, led by the legendary Troy Baker and Nolan North. These legendary voices of gaming, and some familiar names from the car culture world, lay out a story with decision-based changes and a proper narrative to get your teeth into.
"There's the franchise's deepest livery editor and in-race Photo Mode, where you can show off your creative side. Then you've got the 12-player multiplayer action with playful objective-based modes, the four-player split-screen for offline frolics with your pals, and even more brand new features we'll be revealing more on soon… I'm basically listing stuff at this point, but there's so much going on here!
"And not to forget: Everything we're laying out here is raised up a notch through the, quite frankly, intimidating power of Xbox Series X. The team here has made use of the tools to create an unprecedented level of graphical fidelity and optimized performance. What does that mean for you in Dirt 5? Constant action, greater potential in gameplay, and seeing every spec of mud kick up and splat onto your windscreen."