Digital versions of Hitman 3 will offer free next-gen upgrades
Release date, two editions of the game and pre-order bonus also revealed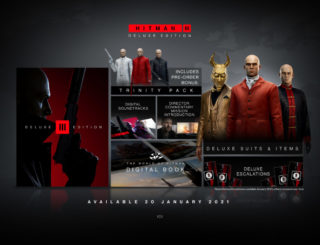 IO Interactive has announced that Hitman 3 will be released on January 20, 2021 for PS5, PS4, Xbox Series X, Xbox One, Stadia and PC.
Players who buy the game digitally for current-gen consoles will get a free next-gen upgrade too.
Players who purchase the digital PS4 version will be able to download the PS5 version at no extra cost, while the Xbox versions will support Smart Delivery.
IO Interactive has also announced that the game will be available in two editions. The Standard one includes the base game, while the Deluxe one includes Deluxe Escalations, in-game items and suits, plus a digital book and soundtracks.
The Hitman 3 pre-order bonus, which comes with every version of the game, is the Trinity Pack. It includes nine items: three suits, three briefcases and three weapons, representing the different games in the trilogy. Pre-orders open today.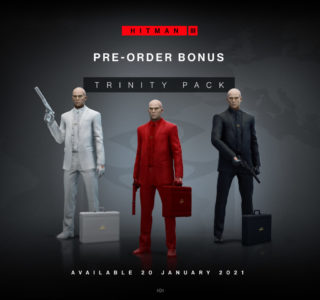 IO confirmed earlier this month that the PC version of Hitman 3 will be an Epic Games Store exclusive for one year.
Hitman 3 will feature "a much darker tone than the previous games in the trilogy", according to director Mattias Engström.
It will take Agent 47 to six locations including Dubai and Dartmoor, England.
IO recently announced that it will bring PlayStation VR support to all three Hitman games in the current trilogy.