Dice cancels Battlefield V competitive 5v5 mode
In order to "more quickly reach our bug-crushing and content goals"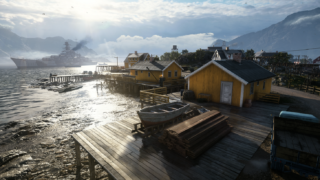 Dice has cancelled plans to release a Battlefield V competitive 5v5 mode in order to focus on bug fixes and adding more sought after content to the game.
"Not creating this mode was a tough decision, but vital for us to more quickly reach our bug-crushing and content goals," Dice senior producer Ryan McArthur said in an update on publisher EA's site.
"However, we will still pursue building a competitive gaming experience in Battlefield. We know that there's already an existing competitive scene in our community, and we're helping build features to support these communities."
McArthur said this summer's launch of Battlefield V Chapter 4: Defying the Odds introduced "some issues to the overall quality of the experience" which will be addressed in several updates.
"Our next game update, 4.4, contains fixes for stuttering issues, desyncs seen on hitboxes, as well as some tweaks to the Commorose. The next few updates will improve game stability, UI communication around damage, and many other items the community flagged."
It will also include two new infantry maps and raise Battlefield V's maximum rank from 50 to 500.
September will see the release of the Operation Underground map, which is inspired by Battlefield 3's Operation Métro map.
"We will then turn our attention to the Pacific, the return to Iwo Jima, and two more locations that you'll deploy on this side of the holidays," McArthur said.
Battlefield V's Chapter 5 Pacific War update will include at least seven fresh weapons and gadgets before the end of the year, while introducing new factions (the US and Japan) and vehicles, including boats.