Diablo Immortal players in 'orb debt' are being banned from PvP activites
Impacted players have a negative orb balance after purchases from third parties were revoked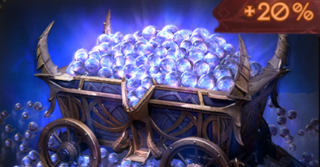 Blizzard has moved to ban Diablo Immortal players with negative Eternal Orb balances from PvP activities.
Earlier this month Diablo Immortal players who had purchased orbs from third-party sites began reporting that Blizzard was revoking them from their accounts, leaving them with "orb debts".
It meant that in order to purchase any more orbs through official channels, players first needed to clear their negative balance.
Diablo Immortal | Season 2 Battle Pass
Now, as spotted by PCGamesN, Blizzard has said that players with negative orb balances will be banned from participating in competitive multiplayer modes.
"We have a hotfix going in later this evening that will be restricting these players from Battlegrounds and other PvP activities," community lead Adam 'PezRadar' Fletcher wrote on Reddit on Wednesday.
In Diablo Immortal, orbs can be purchased in bundles priced at $0.99 for 60, $4.99 for 315, $9.99 for 630, $24.99 for 1950, $49.99 for 3450 and $99.99 for 7200. In comparison, third-party sites are offering 7200 orbs for between $30 and $50.
It's unclear how these third-party sites are acquiring the orbs in the first place, as they're only officially obtainable from the in-game store. Neither the game's battle pass nor its daily rewards provide the currency.
Blizzard claimed at the end of July that Diablo Immortal had been installed over 30 million times since its release for mobile and PC on June 2.