Diablo 4 will have 'annual expansions', franchise boss says
Rod Fergusson used the phrase during a recent interview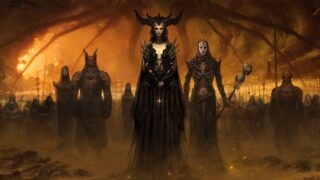 The head of the Diablo franchise appears to have confirmed that Diablo 4 will get a new expansion every year.
So far, Blizzard has yet to officially announce any future plans for Diablo 4 expansions.
However, in an interview with Dexerto, Diablo general manager Rod Fergusson made reference to "annual expansions" after being asked how long the game will be supported.
"I mean, obviously, that's like how long is a piece of string," Fergusson replied. "But, you know, it's years and years.
"That's the thing we're focused on. When you look at the launch of the game and this first season, we see that as building a foundation on which we can build for the future.
"So, as we look at our quarterly seasons, and we look at our annual expansions, those are the things that we're really focused on for our live service.
"We've got plans, we have storylines that go well into the future. We're always leapfrogging our seasons, and leapfrogging our expansions, so it's something we are going to do for a long time."
Diablo 4's second season, Season of Blood, is set to be released on October 17.
"Season of Blood will introduce a new Questline for you to uncover, Vampiric Powers to wield against their originators, five additional endgame bosses with the ability to target specific Unique and Uber Unique items as a drop, and more," Blizzard said.
Released on June 5 for PC, Xbox and PlayStation consoles, Diablo 4 is the World of Warcraft studio's fastest-selling title to date, according to its publisher.
Activision Blizzard said in July that over 10 million players "experienced" Diablo 4 during its launch month.
Other Products
Some external links on this page are affiliate links, if you click on our affiliate links and make a purchase we might receive a commission.