Diablo 4 is getting a final open beta weekend in May, with unique rewards
The 'Server Slam' is designed to test the game's servers by putting pressure on them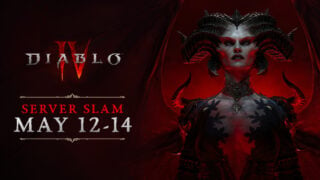 Blizzard has announced that Diablo 4 will be getting a final open beta weekend next month.
Dubbed the 'Server Slam', the event will be free to everyone and will take place on May 12-14.
As the name suggests, Blizzard says the event is designed to "give players one final weekend in Hell to experience a fraction of what Diablo IV has to offer, while simultaneously testing the capabilities of [its] servers prior to launch".
The event will give players access to the Prologue, the entirety of Act I and the first Zone, and will let them build a character up to a Level 20 cap.
---
Diablo 4 guides:
Diablo 4 battle pass | Murmuring Obols | Crushed Beast Bones | Diablo 4 Best Druid Builds | Diablo 4 Best Barbarian Builds
---
Players who take part will also be able to earn a mount trophy, which will carry over to the main game, if they can defeat the beta's hardest enemy.
"Steel yourself before one of the Burning Hells' most fowl machinations, Ashava," Blizzard wrote in a blog post announcing the beta.
"She's a lumbering behemoth with two razor-sharp arm blades, scales stronger than plate mail, and hell-bent on ripping through all who interrupt her quest to bathe Sanctuary in poisonous bile.
"Because your characters can't surpass Level 20 during Server Slam, felling her will be quite the monumental task."
Players who managed to defeat Ashava with one Level 20 character will get the mount trophy, which is called Cry of Ashava.
Blizzard will also reactivate rewards from the previous Early Access and Open Beta weekends, giving players one more chance to earn them before the full game is released.
These rewards are the only thing that will carry over to the full Diablo 4 – any level or character progression made during the Server Slam will be lost once the event ends.
Diablo 4 will be released on June 6 on PC, Xbox Series X/S, Xbox One, PS5 and PS4.
However, players who purchase the Deluxe and Ultimate Editions of the game will be able to play it from June 1 at 4pm PST / 7pm EST (June 2 at 12am BST).
Other Products
Some external links on this page are affiliate links, if you click on our affiliate links and make a purchase we might receive a commission.