Devil May Cry 5 update adds Bloody Palace mode
Fight your way through 101 floors as Nero, Dante or V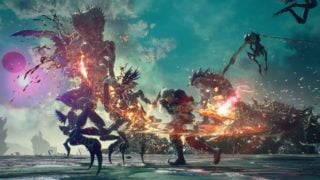 Capcom has released a new Devil May Cry 5 update adding the Bloody Palace mode to the game.
Available to download free on Xbox One, PS4 and PC, Bloody Palace sees players fighting their way through 101 floors of enemies as Nero, Dante or V. You can see it in action in the trailer below.
Players will need to complete the main game on Human or Devil Hunter difficulty levels before they're able to access Bloody Place mode.
The first mainline series entry to be released in over ten years, Devil May Cry 5 is primarily a single-player title, but it introduces a Cameo multiplayer system that enables online players to make guest appearances in each other's games, either in real time, or through ghost data gameplay recordings.
VGC's Devil May Cry 5 review awarded the game top marks. "While overloaded to the point of exhausting, Devil May Cry V is another brilliant reboot from Capcom and a genre-capping turn from the series that made hack-and-slash an artform," the 5/5 verdict concluded.
Publisher Capcom claimed in March that Devil May Cry 5 shipments had exceeded two million units globally in less than two weeks. It also said the franchise had now sold more than 19 million units since it debuted in 2001.