Destruction AllStars will be priced at $20 when it leaves PlayStation Plus
Game was originally planned as a $70 product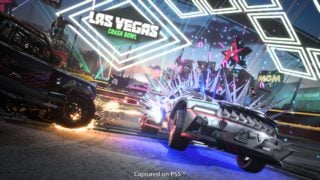 Sony has confirmed that Destruction AllStars will cost $19.99/CDN$29.99/€19.99 when it leaves PlayStation Plus on April 6.
The vehicular combat title was originally planned as a $70 PS5 launch title, but its release was delayed until February 2, when it was made available through PlayStation Plus for two months at no additional cost to subscribers.
"This is a great value, and helps ensure the mayhem will continue long after our PlayStation Plus promotion comes to an end," George Rule, community manager at developer Lucid Games, wrote in a PlayStation Blog post on Thursday.
Rule's post also detailed upcoming content for the game, including double XP weekends, featured playlists, and the new Challenges Series, which are single-player experiences based around an AllStar and their rival.
Challenges Series will introduce new game modes and "be continuously dropped throughout the year". Each one will cost 400 Destruction Points (the title's premium in-game currency).
500 Destruction Points currently costs $4.99/£3.99 on the PlayStation Store, although Lucid said "you will be able to earn this currency through in-game activities soon".
VGC's 2/5 Destruction AllStars review said the game is lacking in compelling content at launch.
"Out of the 4 modes available at launch, 2 of them feel redundant and unbalanced," our critic said. "The single-player content is slim and if you want even a crumb more, you'll have to pay, which leaves Destruction Allstars feeling like a clumsy, hollow product whose fun moments go by in a blur."