Destiny fans pay in-game tribute to Lance Reddick
The veteran actor passed away on Friday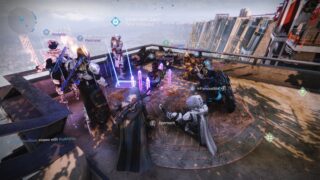 Destiny fans have gathered in-game to pay tribute to the late Lance Reddick.
The actor, who played Commander Zavala in the Destiny franchise was found dead at his home in Studio City on Friday. His cause of death is currently unknown.
Now, Destiny 2 players have gathered around Reddick's character, Commander Zavala, in-game as a way to pay tribute to the late actors.
Since news broke of his death, dozens of videos and screenshots have appeared online of players making their way to the character's in-game location. Players have been emoting or kneeling in front of Zavala to pay tribute to the actor who passed away on Friday, aged 60.
"I was in the tower when I saw this news. Guardians all started to pay their respects," wrote one user on Twitter.
Another wrote, "Man, and he was the only OG [voice actor] out of the three 3 Vanguard characters that was still in the game. RIP Commander Zavala."
This refers to the fact that out of the three most prominent NPCs at Destiny 2's launch, Commander Zavala, Ikora Rey (Gina Torress), and Cayde-6 (Nathan Fillion), Reddick was the only of the three to perform as his character up until the most recent expansion.
Torres was recast as the voice of Ikora Rey, who is now performed by Mara Junot. Nathan Fillion's Cayde-6 was killed off as part of a previous expansion.
As well as being prominent in Destiny 2, the veteran actor was also known for his role as Sylens in the Horizon series of games, where he provided both the voice and facial capture for the character. He also appeared in Remedy's Quantum Break.
Both Bungie and Horizon developer Guerrilla Games have issued statements on Reddick's passing. 
Related Products
Other Products
Some external links on this page are affiliate links, if you click on our affiliate links and make a purchase we might receive a commission.