Destiny 2: The Witch Queen will charge separately for its dungeons, angering fans
The three upcoming dungeons will not be included in Season Passes either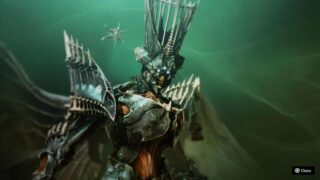 Bungie has angered fans by stating that the upcoming dungeons planned for The Witch Queen expansion for Destiny 2 will not only be sold separately, but won't be included in Season Passes either.
The game's lead community manager Chris Shannon explained to players on the official Destiny subreddit that players will need to buy the Digital Deluxe version of the game to get the dungeons, or buy them separately in the future.
"We've seen some debate around the new dungeon content and wanted to clarify how it will be delivered next year," Shannon posted.
"If you get the Digital Deluxe Edition of The Witch Queen you will receive the expansion, all four Seasons for the next year, and the two Dungeons. If you get the Standard Edition, you can still upgrade to the Deluxe Edition to get the dungeons later.
Destiny 2: The Witch Queen - reveal trailer
"We will also be offering a separate way for you to purchase the Dungeons in the future, but they will not be included in the Season Passes."
Bungie had previously announced that it was also releasing a 30th Anniversary Pack for $24.99 that would include a third dungeon, which also would not be included in Season Passes.
As such, the cheapest way at the moment for players to access all three dungeons is to buy The Witch Queen Deluxe + 30th Anniversary Bundle for $99.99, which includes four Season Passes, the two dungeons and the 30th anniversary dungeon.
Anyone who buys the standard $39.99 version of The Witch Queen will have no access to the dungeons, even if they buy the Season Passes at a later date. The only way players with the Standard Edition can access the dungeons is to upgrade to the Deluxe Edition, or buy the dungeons separately at a later date (with the price to be confirmed).
The news has angered Destiny 2 fans, and Shannon's post on Reddit currently has a score of -1798 points, meaning it's been downvoted significantly more times than upvoted.
"Thanks for clearing it up," said one player. "This is now definitely scummy instead of possibly scummy. I guess that's technically an improvement."
"I appreciate you for playing scapegoat for this but I cant convince my friends who aren't into the grind to spend £70 for an expansion and dungeons that might be good," added another.
"Already disgusting that they add the 30th anniversary crap that you have to buy if you want the dungeon and exotic rare loot," said another, "and they're not adding nearly a quarter of what an expansion does yet they ask almost the same price. Now they're locking dungeons, which are already scarce in number, behind another paywall."
Destiny 2's The Witch Queen expansion will be released on February 22, 2022. Billed as the "definitive Destiny campaign", it will take players to Savathûn's Throne World and introduce the new Glaive weapon type.