Destiny 2: Season of Arrivals listed on the PlayStation Store
New season of content expected to be officially revealed on June 9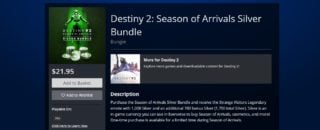 Destiny 2's next major expansion will be called Season of Arrivals, according to a PlayStation Store listing for the unannounced content.
There are no major details about the content in the product listing, but fans shouldn't have to wait long to find out more as Bungie plans to reveal "the next step in the Destiny universe" during a stream beginning at 9am PT / 5pm UK on June 9.
In May, Bungie said it had "exciting news to share" about its plans for the future, and earlier this month a Destiny 2 expansion teaser featured a snowy landscape similar to early concept art for Europa, a moon orbiting Jupiter.
Update: Destiny 2's next major expansion, Beyond Light, launches in September 2020. It will be followed by two further expansions, The Witch Queen in 2021 and Lightfall in 2022.
Original story continues: The studio also confirmed in May that Destiny 2 will be released for Xbox Series X and PlayStation 5.
In a reply to a tweet about Xbox Series X's development partners, Bungie said Destiny would be coming to "next-gen platforms" and that more details would be revealed in the future.
Destiny 2 is currently available for Xbox One, PS4, PC and Stadia, with players able to transfer their save files between platforms.
Asked in December if Bungie had plans to introduce Destiny cross-platform play, communications director David 'Deej' Dague told VGC that while it's interested in "anything that would bring players together so that they can share their experiences", managing its resources was an ongoing challenge.
Bungie plans release its next game franchise by 2025 and its new IP is a "comedic" RPG with loot systems, according to a pair of job listings uncovered this month.