Designer thanks fans as Cyberpunk receives 'flood of very positive user reviews'
A recent Steam discount resulted in a significant boost to 2077's user rating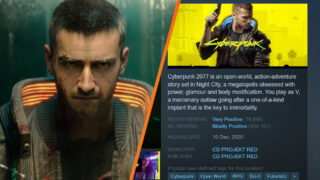 A Cyberpunk 2077 designer has thanked fans following "a flood" of very positive user reviews on Steam this week.
Cyberpunk is currently Steam's global top seller, following a 50% price discount as part of Steam's Autumn Sale, which saw it reduced from $60 / £50 to $30 / £25.
The influx of new players appear to have had a much better experience with the RPG than those who picked it up at launch, since the game's user rating has been upgraded to "very positive" thanks to more than 18,000 recent reviews.
Previously, 2077 had a "mostly positive" user rating, based on some 404,000 combined user reviews submitted to date.
Responding to the news, CD Projekt's quest director for Cyberpunk, Pawel Sasko, thanked fans on Twitter. "You can't imagine what it means to me," he wrote. "Thank you so much!"
In June, CD Projekt said it believed Cyberpunk 2077's performance had reached a "satisfying" level, following six months of patches designed to improve the game from its much-criticised launch state.
Post-launch plans for Cyberpunk 2077 were significantly altered following its troubled release, but the game finally received its first piece of DLC in August alongside its biggest patch yet.
Earlier this week, the president of CD Projekt said he believes that Cyberpunk 2077 will be considered a "very good game" in the future, once its issues are finally resolved.
Speaking in a new interview with Polish economic newspaper Rzeczpospolita, Adam Kiciński argued that the brand awareness generated by the game means it will eventually be seen as a success, despite its rocky launch last December.
"We believe that in the long run Cyberpunk 2077 will be perceived as a very good game, and like our other titles, it will sell for years – especially as the hardware gets more powerful over time and we improve the game," he said.
"We're working on updates all the time, and we're also working on a version for the latest generation of consoles. Of course, the original release taught us a lot. It gave us a kick and motivated us to make changes that will make us better in the future."
Related Products
Other Products
Some external links on this page are affiliate links, if you click on our affiliate links and make a purchase we might receive a commission.