Descendent Studios sued over unfinished Descent prequel
Descent: Underground raised over $600k through Kickstarter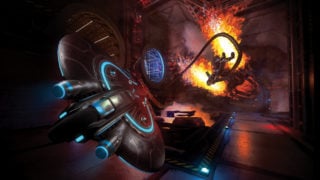 Publisher Little Orbit has sued Texas-based Descendent Studios and its CEO Eric Peterson over the failure to complete a long-in-development prequel to the influential space FPS series Descent.
In court documents filed in January 2020, Little Orbit accuses Descendent Studios and Peterson of breach of contract, negligent representation, fraud, and trade libel/commercial disparagement.
According to the suit, several former Star Citizen developers left Cloud Imperium Games in 2014 to establish Descendent Studios and create a game inspired by Descent.
The following year Descendent entered into an agreement to license the Descent name from Interplay, changed the title of the project to Descent: Underground, and raised over $600,000 through a Kickstarter crowdfunding campaign to help bring it to life.
The project received additional funding when Little Orbit signed on to publish it in September 2017, with the intention of bringing it to consoles as well as PC, but Descendent is alleged to have missed multiple project milestones and planned release dates, the last of which was scheduled for February 2019.
Little Orbit alleges that the content that was delivered didn't meet the agreed quality standards, compelling it to invest more funds in additional development capacity outside of Descendent.
The publisher also believes that Interplay cancelled its license of the Descent trademark to Descendent.
"Upon information and belief, Descendent fraudulently induced Little Orbit to commit to fund payroll as part of the Terms Sheet Amendment with no actual intent or desire to provide concrete deliverables on specific dates, including a delivery date for the final PC version," the lawsuit alleges.
Little Orbit also claims Descendent CEO Peterson "made multiple false and disparaging statements" about the company to the gaming community in an effort to cover up the studio's own failures and to cast blame for the project's problems on its publisher.
It claims to have suffered damages which have "not yet been ascertained but not less than $2,000,000.00 to be proven at trial".
Little Orbit also wants the court to rule over who holds the contested intellectual property rights for the project.
Related Products
Other Products
Some external links on this page are affiliate links, if you click on our affiliate links and make a purchase we might receive a commission.