Delayed Crysis Remastered is reportedly hitting PS4 this week
The title's release was pushed back following a negative response to leaked media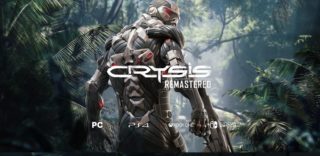 Crysis Remastered will reportedly be released for PS4 this Friday.
That's according to a round-up of this week's new PS4 releases from PlayStation Access (see video below), the official YouTube channel of PlayStation UK.
Publisher Crytek has yet to officially confirm the release date, but a tweet on August 14 hinted that an announcement was imminent.
"The wait is almost over, and we promise it will be worth it! Please stand-by for further intel," it read.
Co-developed by Crytek and Saber Interactive, the game was originally due to release for PS4, Xbox One, PC and Nintendo Switch in July.
While the Switch version did release on July 23, the other versions were delayed following a negative reaction to a leaked video and screenshots.
"Your passion for the Crysis franchise deserves and undeniably high-quality game, and we are committed to delivering just that," Crytek said at the time.
"To ensure that we meet that commitment, we will need to delay the launch date (all platforms) and trailer premiere by a few weeks."
Crytek went on to claim that the extra time until release would allow it "to get Crysis Remastered up to the PC – and console-breaking standard you've come to expect from Crysis games.
"We hope you understand what we're up to – and that you stay with us while we take the time to make a few more improvements," it said.
According to Crytek, Crysis Remastered will feature high-quality textures and improved art assets, including an HD texture pack, temporal anti-aliasing, new light settings, motion blur and more.