Dead Space's creator says he's 'excited' to see what Motive does with the remake
Glen Schofield says directing the original was one of his career highlights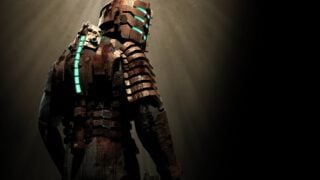 Dead Space creator Glen Schofield has said he's "excited" to see what EA's Motive studio does with the newly announced Dead Space remake.
EA officially announced that it is working on a Dead Space remake on Thursday with a teaser trailer that rounded off its EA Play Live showcase.
Built from the ground up with the Frostbite engine, the game promises to deliver "an improved story, characters, gameplay mechanics and more".
Reacting to the news, Schofield tweeted: "Directing the original Dead Space was one of the highlights of my career. Excited to see what the EA @MotiveStudio team does with it!"
Motive seemingly gives a tip of the hat to Schofield in the remake's reveal trailer, which shows protagonist Isaac Clarke at a workbench that references the game's iconic Plasma Cutter – a "Schofield Tools" product, as spotted by Max Zareckiy.
Schofield Tools was also reportedly mentioned in Dead Space Extraction, an on-rails shooter spin-off that released for Wii and PS3.
"You paved the way for us, Glen," Motive responded to Schofield's tweet. "Looking forward to the Callisto Protocol as well."
The Dead Space series launched in 2008 and has not seen a new instalment since 2013's Dead Space 3. The franchise's original developer, Visceral Games, was closed by EA in 2017.
A number of former Dead Space developers are currently working on The Callisto Protocol, a survival horror game set in the PUBG universe. It's the debut title from Striking Distance, a studio led by former Visceral general manager Schofield.
One of Schofield's first hires at Striking Distance was the studio's chief development officer, Steve Papoutsis. At Visceral, Papoutsis led development on the Dead Space franchise and eventually became the studio's general manager after Schofield departed to establish Activision's Sledgehammer Games.
Papoutsis was particularly influential on Dead Space 2, leading conceptualisation and development of the sequel.
"Congrats to the team at EA @MotiveStudio on their Dead Space announcement," he said on Thursday. "I hope you have as much fun working on this title as I did, and look forward to playing it at launch."
Schofield tells the story of Dead Space's origins in the latest issue of Edge magazine, which includes a feature on his 30-year career in the games industry.
As the head of EA's James Bond games, Schofield was executive producer on 2005's 007: From Russia with Love, which was produced in a year. Following its completion, EA reportedly wanted him to make another Bond game in "about" 10 months due to a contractual agreement with the rights owner.
Schofield, who believed the project was destined to fail given the short turnaround time, went on to hand in his notice after receiving a job offer from Activision, but EA persuaded him to stay by agreeing to give him a small team and some time to come up with an idea for his own game.
His team made a "great-looking" demo in a "scary corridor" featuring what would become Dead Space's signature gameplay mechanic, "strategic dismemberment", which sees players taking enemies apart limb by limb.
"EA saw that they had something special and they put more and more people behind it. And they gave me what I needed," Schofield said.
Schofield also recalled demoing a level to Resident Evil creator Shinji Mikami.
"He bowed to me and he said, through an interpreter, 'You've got something special.' And I was so proud. I was like, Wow, maybe we've got something great here – I don't know.' You never know."
Schofield added: "When we were making Dead Space, we didn't think of sales, we didn't think of scores, we didn't think of awards – we were just focused on quality and making something we were passionate about. I know that sounds weird – like, yeah, you should do that. But back then you were focused on getting the game out on time, what your sales were going to be, things like that. In this case, it was the opposite – I'd just worked on a bunch of licensed games and I wanted to focus on quality, so that's what we did.
"All of a sudden it started getting these great scores and we were stunned, and then we started winning awards. The initial sales were OK – if you look back, I think it took a while for the sales to get off the ground, and of course a sequel always helps. But it turned out to be something I'm really proud off. When people come up to me, of all the game I've made, that's the one they like to talk about the most."
Schofield eventually left EA to establish Sledgehammer Games, where he directed several entries in the Call of Duty series. He also told Edge that consumers don't appreciate how much work goes into making Call of Duty games.