Dead Space remake's gun firing effects have been changed based on fan feedback
The game's community felt some weapons didn't sound quite right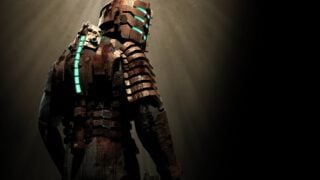 EA Motive has changed some of the gun firing sound effects in its upcoming Dead Space remake, claiming these changes were a direct result of community feedback.
A new video posted on the official Dead Space Twitter account shows how the Plasma Cutter weapon sounded in the original Dead Space, followed by footage of the same weapon being fired during a livestream last month (where it sounds different to the original).
It then shows an updated version recorded this week, in which the weapon sounds noticeably different again.
The video then does the same comparison with the Pulse Rifle weapon, which was also reportedly criticised last month for its new sound.
In a separate post on the Dead Space subreddit, the game's community manager Caden House explained how fan feedback affected the decision to change the weapon sounds.
"When we showed you the Plasma Cutter and Pulse Rifle not everyone was sold on it, and there were a handful of criticisms that felt they could still be better," he explained.
"We believe that the feedback given was definitely valid and reading the comments on what was highlighted, we made a few modifications that we think improves it."
He added: "The sense of power from weapons comes with the full experience, as it's not only the core sounds you'll hear, but also the impact on surfaces, and the effects on the environments.
"You'll notice the Plasma Cutter frequency range has been rebalanced to focus more on the kick, as well as the lower end. Overall, this better aligns to that "feel" that so many of you mentioned with the original.
"With the Pulse Rifle, you can hear now that the rhythm is a bit more chaotic and not as tight as the previous version. There's a bit more volume from the environmental reaction, as well as more feedback from surface impacts."
EA Motive shared over 20 minutes of new Dead Space remake footage last month, while also confirming an early 2023 release window. According to the studio, there will be another Dead Space remake stream in May focused on the art design for the game.
EA announced that it was working on a Dead Space remake with a short teaser trailer in July 2021.
Helmed by creative director Roman Campos-Oriola and former Assassin's Creed Valhalla game director Eric Baptizat, the title is in development at Star Wars Squadrons studio Motive for PS5, Xbox Series X/S and PC.
Built from the ground up with the Frostbite engine, it promises to deliver "an improved story, characters, gameplay mechanics and more", which could include content cut from the original game and features introduced in the sequels.