Days Gone adds Death Stranding items as 'support' role revealed
Bend Studio is listed as a 'support partner' in Kojima title's credits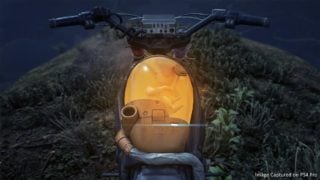 PS4 exclusive Days Gone has been updated with Death Stranding items, after its developer was revealed as a "support partner" for the game.
With the release of Days Gone's 1.6 patch, the game has been updated with new Death Stranding themed bike tanks, decals, and a frame paint.
Days Gone developer Bend Studio is listed as a "support partner" in Death Stranding's credits, along with Spider-Man developer and fellow first-party studio Insomniac.
More than 70 Guerrilla Games developers worked on Death Stranding, the game's credits reveal, as well as a various motion capture and CGI support studios.
VGC analysis also revealed that of the some 120 core developers who worked on the game at Kojima Productions, more than half also worked on Kojima's final Konami title, Metal Gear Solid V: The Phantom Pain.
Virtually all of Death Stranding's lead design and art positions came from former Metal Gear staff, with most newcomers working in programming positions.
Death Stranding is out now for PlayStation 4. It's available to purchase from retailers including Best Buy, Walmart, ShopTo and Game.
VGC's Death Stranding review was published ahead of release.