David Ward, co-founder of Ocean Software, has died aged 75
Ward was a pioneer of British games development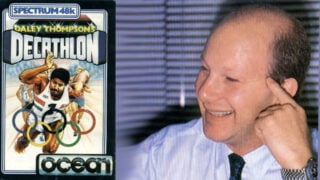 David Ward, co-founder of influential British developer and publisher Ocean Software, and a pioneer of game development in the UK, has died at the age of 75.
Born in 1947, Ward co-founded Ocean Software with Jon Woods in 1983 (as 'Spectrum Games') and would go on to become one of Europe's biggest game publishers, creating titles such as Platoon, Top Gun and Daley Thompson's Decathalon.
The Manchester-based company is credited for establishing much of the commercial, legal and technical framework that helped turn game creation from a hobby to a global business.
The news of Ward's death was confirmed by his son Ben on Monday.
In 2004, Ward and Woods were inducted into the ELSPA Hall of Fame for their contributions to the game industry.
"Many people consider Ocean Software to be pioneers who helped to transform the UK computer and video games into a real multinational business," said ELSPA director general Roger Bennett at the time.
"Together Ward and Woods coined much of the terminology of the games industry and instigated many of its milestones, including the use of brands and franchises from traditional media and the formal processes of protecting intellectual property."
In 1996, Ocean Software merged with Infogrames for £100 million. Ocean remained a separate division of Infogrames until 1998 when it was rebranded as Infogrames United Kindom Limited.
British games trade body UKIE said in a statement on Monday: "We're saddened to hear of the passing of David Ward, who was the co-founder of the pioneering Manchester based games development and publishing company Ocean Software. Our thoughts are with his friends and family."
---
David Ward Credits
A-Jax – Producer
A.L.C.O.N. – Producer
Android Two – Producer
Arkanoid – Producer
Arkanoid: Revenge of DOH – Producer
Armageddon – Producer
Army Moves – Producer
Athena – Producer
Bad Dudes – Producer
Batman: The Caped Crusader – Producer
Battle Command – Producer
Boot Camp – Producer
Cabal – Producer
Cavelon – Producer
Chase H.Q. – Producer
Chase H.Q. II: Special Criminal Investigation – Producer
Cobra – Amstrad Producer
Comic Bakery – Producer
Contra – Producer
Cosmic Wartoad – Producer
Cosmo Police Galivan – Producer
Daley Thompson's Decathlon – Producer
Daley Thompson's Olympic Challenge – Producer
Darkman – Producer
Double Take – Producer
Eco – Producer
Eskimo Eddie – Producer
Firefly – Producer
Frankie Goes to Hollywood -Producer
Freddy Hardest – Producer
Game Over – Producer
Gift from the Gods – Producer
Gilligan's Gold – Producer
Head Over Heels – Producer
High Noon – Producer
Highlander – Producer
Hunchback – Producer
Hunchback II: Quasimodo's Revenge – Producer
Hunchback: the Adventure – Producer
Hyper Sports – Producer
It's a Knockout – Producer
Jonny and the Jimpys – Producer
Konami's Golf – Producer
Kong Strikes Back! – Producer
Life Force – Producer
Lost Patrol – Producer
Madballs – Producer
MagMax – Producer
Mailstrom – Producer
Match Day II – Producer
Miami Vice – Producer
Midnight Resistance – Producer
Mikie – Producer
Moon Alert -Producer
Movie – Producer
N.O.M.A.D. – Producer
NARC – Producer
Navy Seals – Producer
Nightmare Rally – Producer
Ninja Gaiden – Producer
Operation Wolf – Producer
Pang – Producer
Parallax -Producer
Parasol Stars: The Story of Bubble Bobble III – Producer
Phantom Club – Producer
Ping Pong – Producer
Plotting – Producer
Psycho Soldier – Producer
Pud Pud in Weird World – Producer
Puzznic – Producer
Rainbow Islands – Producer
Rambo III – Producer
Rastan – Producer
Red Heat – Producer
Renegade – Producer
Renegade III: The Final Chapter – Producer
RoboCop – Producer
RoboCop 2 – Producer
Roland's Ratrace – Producer
Rollerball – Producer
Run the Gauntlet – Producer
Rush'n Attack – Producer
Short Circuit – Producer
Sly Spy: Secret Agent – Producer
Space Gun – Producer
Street Hawk – Producer
Super Soccer – Producer
TLL: Tornado Low Level – Producer
Tank – Producer
Target: Renegade – Producer
Terra Cresta – Producer
The Great Escape – Producer
The Legend of Kage – Producer
The Neverending Story – Producer
The New Zealand Story -Producer
The Slugger – Producer
The Vindicator! – Producer
Toki: Going Ape Spit – Producer
Total Recall – Producer
Transformers – Producer
Transversion – Producer
Voyager – Producer
WEC Le Mans – Producer
Where Time Stood Still – Producer
Wild Wheels – Producer
Wizadore – Producer
Wizball – Producer
Yie Ar Kung-Fu 2: The Emperor Yie-Gah – Producer