David Jaffe claims he rejected $100m Tencent deal 'because I want nothing to do with them'
Twisted Metal creator says he turned down offer because of his views on the Chinese government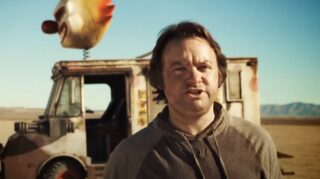 Twisted Metal creator David Jaffe has claimed that he rejected an offer from Tencent to direct a game with a $100 million budget because of his views on the Chinese government.
Speaking on the Sacred Symbols+ podcast (paywalled, transcribed by VGC), the director of the original God of War discussed how he felt uncomfortable dealing with the company after receiving an offer from it.
"I had a $100 million deal," he claimed. "I was courted by a Chinese company… and I said 'no thank you'… because you're Tencent and I want nothing to do with you.
"It was bad because it was the western Tencent, and it was a western guy that I respect that was calling me and I wasn't trying to shame the guy. I hope he's got thick enough skin, and he's been an executive in the business way longer than I have, but I was just like 'man, I don't want to do business with a company like that, with a government like that.'"
Later in the podcast, as Moriarty and Jaffe discussed the increase in money being invested in studios across the industry, Jaffe elaborated on some of the reasons why he turned down the Tencent deal.
"Stop killing people," he said. "Again, people will be like, 'America's hands aren't clean', no they are not clean at all but we're also not, you know, we all have a system that if we actually gave a shit, we could change it.
"In China, you just get picked up off the street if you go online and say something bad about the police or the government or anything and who knows when they'll see you again. That's not even mentioning if you're a fucking Uyghur."
UPDATE: Following the publication of this story, Jaffe also shared what appears to be correspondence with the aforementioned Tencent executive in which he further explained his decision to turn down the offer.
In addition to his views on China, Jaffe said he wanted to continue dedicating his time to talking about and streaming games on his YouTube channel.
ORIGINAL STORY CONTINUES: As well as owning League of Legends maker Riot Games, Tencent also has a 40% stake in Epic Games and holds shares in Activision Blizzard, Ubisoft, PUBG Studios parent company Krafton, PlatinumGames, Marvelous Inc and Playtonic Games.
While not state-run, the company holds a close relationship with the Chinese government due to its status as one of the world's largest video game companies. Tencent also owns the popular Chinese messaging app WeChat.
Related Products
Some external links on this page are affiliate links, if you click on our affiliate links and make a purchase we might receive a commission.